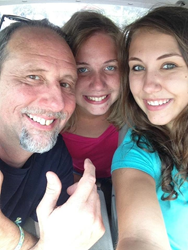 Every essay was a winner in my mind.
Hartford, CT (PRWEB) February 13, 2017
The winners for the third annual Russ Wilson Essay Contest were announced earlier this week. Russ Wilson was a dear friend of Executive Director Phil Valentine and of the Connecticut Community for Addiction Recovery (CCAR), a man in recovery, a father, a son, a brother and a person who loved to write. Russ was an inspiration to many and a pillar of the recovery community. Russ died on June 28, 2014, he was sober when he passed and just 55 years old. CCAR continues to honor his passion for writing.
Contestants chose between three topics:
1. Living in recovery in a "non-recovery" environment.
2. Fear and faith – an inner conflict.
3. My personal pathway of recovery.
Submissions, received from around the country, were reviewed by Russ Wilson's siblings: Dan, Cheryl, and Mike. In a Facebook Live announcement, Dan Wilson said, "Every essay was a winner in my mind."
This year's honorable mention is The Beautiful Mosaic of Shattered Glass by Shawn Kain. A story fueled with emotion and powerful metaphors, Mosaic tells the story of a man and his father. Through the juxtaposition of glass and vision, Kain is able to paint a picture of the passion we hold for family. The piece culminates in Kain's journey into his own passion: teaching. "Each being drawn to an omega point, clouded by smoke and mirrors, but visible to me only after years of observation; a lyric, a helping hand, a smile, pieces of heaven shown to us if only for a moment; each combine to create a constellation that cannot be broken."
The third place winner is Fear and Faith by Andrea Macone. Macone's piece tells a story of fear through personification of the emotion, providing a rare glimpse into a humbled mind. Macone tackles topical issues, pinpointing acts of discrimination surrounding this year's election as potentially dangerous for her recovery. "[Fear] compounds upon itself and snowballs until I am no longer a collection of bone and tissues but an object of vibrating panic propelled by anxiety and sustained by dread." In the end, through sprawling prose, Macone conveys her daily victorious struggle against her fears. Andrea Macone will receive $100.
The second place winner is My Perfectly Designed Path by Amy Baumgardner. Baumgardner's piece, written with an honesty that bites, tells a story that is all too familiar. "My marriage, my health, my body image, my self esteem, and ultimately my children were all infected with the dis-ease I ignored and pushed back into the darkest corners of my soul." My Perfectly Designed Path speaks to all of us. Baumgardner's simplistic prose makes the reader feel like her new confidant, as if she left alcohol behind in order to confide in us. Baumgardner will receive $250.
The first place winner is The Sweet Spot by Meghann Perry. The Sweet Spot manages to bring the reader in close, so close that we get a clear picture of the author's life in a few carefully chosen words. Perry skillfully brings the reader from childhood bliss, to transition years filled with fear and struggle, and finally into an adulthood that was worth waiting for. Perry ends her piece with a beautiful metaphor, uniting all stages of her life under the umbrella of her faith. "And now, when I'm feeling frisky, I eat my M&M's a handful at a time, colors and sides be damned, and I trust that I will be okay no matter what, because I am so blessed, and because I have found the sweet spot between fear and faith." Perry will receive $500.
About CCAR:
Since 1998 the Connecticut Community for Addiction Recovery (CCAR) has organized the recovery community (people in recovery, family members, friends and allies) to put a face on recovery and to provide recovery support services to help sustain recovery. By promoting recovery from alcohol and other drug addiction through advocacy, education and service, CCAR strives to end discrimination surrounding addiction and recovery, open new doors and remove barriers to recovery, maintain and sustain recovery regardless of the pathway, all the while ensuring that all people in recovery, and people seeking recovery, are treated with dignity and respect. CCAR envisions a world where the power, hope and healing of recovery from alcohol and other drug addiction is thoroughly understood and embraced.