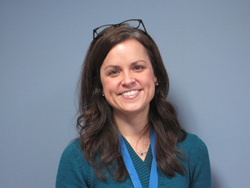 Access to language and communication has been an integral part of my educational and professional career, so I already feel connected to HASA's mission.
Baltimore, Maryland (PRWEB) February 08, 2017
The Hearing and Speech Agency (HASA) is pleased to welcome new executive director Erin Stauder. She succeeds Susan Glasgow, who served as director for 22 years.
Ms. Stauder takes the lead of an organization with a strong history in the Baltimore community. Founded in 1926 as a meeting place for the hard of hearing, HASA has evolved to serve the interpreting, educational and therapeutic needs of children and adults through CIRS Interpreting, Gateway School and a clinical services program.
Erin Stauder, MS, CCC-SLP is a licensed speech-language pathologist who is currently pursuing a PhD in educational public policy, allowing her to use evidence from the fields of economics, sociology, education, and political science to serve HASA. Erin received both her master's and bachelor's degrees in speech-language pathology from Loyola College in Maryland. While serving as a clinical faculty member at her alma mater, Erin managed inter-professional teams, coordinated programs, and established relationships with community partners and charitable foundations.
Erin worked in special education schools, early intervention settings, and in acute care pediatric settings (including the Neonatal Intensive Care Unit). She was a clinical faculty member at both Loyola University Maryland and Towson University. While working as a university clinical faculty member, she supervised a diverse caseload that included non-verbal toddlers with autism and middle school students with language and literacy challenges. She was recruited to write articles for the ASHA Leader and the ASHA Leader Blog. She has also published articles in scholarly journals. Erin taught 400-600 level coursework related to speech and language typical and atypical/delayed development.
Erin was a previous member of Executive Committee for the the State Interagency Coordinating Counsel for Infants and Toddlers in Maryland and is a current member of the Advisory Board for North Bend Elementary/Middle School in Baltimore City. Erin is a member of the American Speech-Language-Hearing Association. In January 2017, she became a Professional Member of the National Academies of Practice (NAP) of speech-language pathology which recognized her as a leader in inter-professional healthcare. The NAP works as an "interdisciplinary force to influence national health policy, legislation, and promote quality healthcare through cooperative advocacy, practice, education and research."
Since 2006, Erin has been a member of the clinical faculty at Loyola University Maryland. There she managed the clinical internship program for speech-language graduate clinicians at multiple locations in Baltimore City. Prior positions include serving as an Advanced Therapist with the University of Maryland Medical Center and also managing and providing a variety of services to young children through Easter Seals of Southeastern Pennsylvania.
ABOUT THE HEARING AND SPEECH AGENCY
The Hearing and Speech Agency (HASA) is a private, non-profit organization that provides hearing and speech services, offers an information resource center and advocates for people of all ages with communication challenges. Services include hearing tests, hearing aids, special education, speech-language evaluations and therapy, listening and spoken language services, pre- and post-cochlear implant services, occupational and physical therapy, sign language interpreting, sign-language classes, Deaf awareness seminars, social work, and parent support groups.