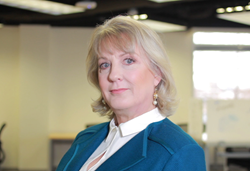 I am honored to be recognized by Cartier, McKinsey, INSEAD, and The Women's Forum for improving the lives of seniors and their families.
Dallas, TX (PRWEB) February 09, 2017
Among the thousands of entries, Rhonda Harper, Founder & CEO, Penrose Senior Care Auditors has been named North American Finalist in the 10th Annual Cartier Women's Initiative.
The Cartier Women's Initiative Awards is an international business plan competition created in 2006 to identify, support and encourage projects by women entrepreneurs. Its aim is to encourage inspirational women entrepreneurs worldwide to solve contemporary global challenges by supporting and recognizing creative women who are making concrete contributions to finding solutions for the future of our planet and bringing these business solutions to the largest audience possible.
Rhonda Harper has more than 25 years of Fortune 100 strategic planning, marketing, and general management senior executive experience. A successful serial entrepreneur as well, she received an MBA from Emory University Goizueta Business School.
"I am honored to receive this recognition from such prestigious companies," remarks Harper. "Personal experience led me to create senior care auditing as a service and launch Penrose in 2014. Our mission is to improve the quality of life among seniors and their families though a high-touch and hi-tech approach."
PENROSE PROVIDES SENIOR CHECK-IN SERVICES, INCLUDING THE CARE-CHECK
During the Penrose Care-Check, certified and insured auditors visit seniors in private residences and senior living communities, assess 150 items across 7-Quality-of-Life Factors (i.e. well-being, safety, comfort, cleanliness, maintenance, supplies, and caregiver observations), and report back to families all by using Penrose's proprietary app.
THE CARTIER WOMEN'S INITIATIVE AWARDS
The Cartier Women's Initiative is a joint partnership project initiated by Cartier, The Women's Forum, McKinsey & Company and INSEAD business school. Since the Awards inception in 2006, they have accompanied 162 promising female business-owners and recognized 58 Laureates.
Harper will join the other 17 global finalists for The Awards Ceremony taking place in Singapore on April 12th, 2017 where 6 winners will receive $100,000, a place on the INSEAD Social Entrepreneurship 6-Day Executive Program (ISEP), one-to-one personalized business mentoring, media visibility and networking opportunities.
ABOUT PENROSE SENIOR CARE AUDITORS
The United States has approximately 50 million seniors, 75% of whom need some type of daily assistance. Meanwhile, around 50% of caregivers admit to abusing seniors and 95% of seniors say they have been abused or witnessed abuse. Many adult children of seniors are shouldering the burden of care, close-by or at a distance, while working and raising their own families.
Headquartered in Dallas, Texas, Penrose Senior Care Auditors is a nationwide team of certified, insured auditors who visit seniors, assess their living conditions and deliver a detailed report, complete with images and videos to support their findings. Penrose launched in 2014 with a proof-of-concept rollout. A tech-enabled smartphone app, developed in 2015, allowed the business to scale and it now has 80 auditors from coast to coast across the country. In 2016, Penrose won the prestigious AARP Health Tech Innovation@50+ competition and was recognized by the American Geriatrics Society as a Top 15 Senior Start-Up.
#SeniorLiving #HomeCare #AssistedLiving #SeniorCare #SkilledNursing #Entrepreneur #Technology