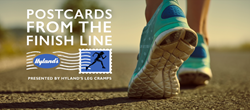 Los Angeles, California (PRWEB) February 09, 2017
One such individual is Adrian Broca, an accomplished marathoner training for his first Ironman despite a genetic disorder that damaged his optic nerve and ultimately cost him his vision. He is currently one of only three blind American runners to break the 3-hour mark for the 26.2 mile distance. Broca shares his personal account of that journey in a mini-documentary that can be viewed at http://www.hylands.com/postcards.
Visitors to the site will also learn about Dave Fleischman, a seasoned thru-hiker of the Appalachian Trail and the Pacific Crest Trail (PCT) who has now set his sights upon conquering the Continental Divide Trail in one continuous trip. His personal finish line, however, has more to do with a calling to maintain these wild spaces for others.
"Hyland's is committed to supporting people in their effort to push the boundaries of what they believe themselves capable of achieving," said Lisa Shapiro, Hyland's Senior Brand Manager, "whether that means attempting your first 5k, adding an ultramarathon to your race schedule or section hiking a legendary long trail."
Members of the public are encouraged to submit their own stories of challenge and triumph to be featured on the website alongside Broca and Fleischman. Learn more and join the conversation via @hylandspowered on Facebook, Twitter and Instagram and http://www.hylands.com/postcards.
*The uses for our products are based on traditional homeopathic practice. They have not been reviewed by the Food and Drug Administration.