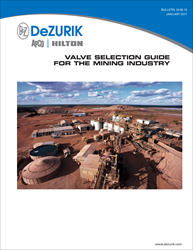 Sartell, Minn. (PRWEB) February 08, 2017
DeZURIK Inc., a leading manufacturer of valves for the global mining industry, has released its newly revised Valve Selection Guide for the Mining Industry. The guide is designed to assist users in navigating the valve selection process and features information on DeZURIK's complete line of innovative valves for mining applications, including slurry, gate, plug, butterfly, check, air, and rotary control valves.
Available online now, the Valve Selection Guide will also be featured at the upcoming 2017 SME Annual Conference & Expo, the key industry conference that takes places February 19-22 in Denver, Colorado. Attendees can get a physical copy of the guide by visiting the DeZURIK show booth (#623) through the show, where they can also speak with DeZURIK's team of mining industry experts.
The updated Valve Selection Guide is highlighted by a detailed valve selection chart, which uses color-coded ratings to categorize each valve style's usage based on function, type of media, and individual characteristics ranging from flow capacity to pressure ratings and shutoff class.
While the guide is designed to serve as a starting point in the valve selection process, DeZURIK's global team of representatives is readily available to guide both new and current customers through the process. To find a local representative, please visit http://www.dezurik.com/find-a-rep/.
Headquartered in Sartell, Minn. DeZURIK Inc. owns four of the industry's most trusted valve brands – DeZURIK DeZURIK, APCO, HILTON and Willamette – and works with customers in dozens of countries worldwide. Find more information at http://www.DeZURIK.com.