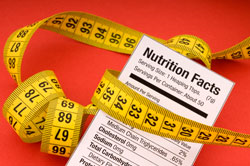 We're sure brands will find creative and great-looking label designs that raise awareness of this vital topic and help their customers eat well.
Denver, CO. (PRWEB) February 09, 2017
Heart Health is the Focus in February
Companies that manufacture and sell heart-friendly foods and beverages can use February as an opportunity to reach out to consumers who are interested in keeping their own hearts strong. They can also shine light on the struggles of those suffering with diseases affecting the heart. Customers interested in heart-healthy diets, especially during the month dedicated to this topic, brands may be able to reach out to them through smart use of custom food labels created by Lightning Labels.
Give Diet Help
When customers see the importance of heart health, it's natural they'll want to seek out foods that will keep their hearts strong. Companies can help guide their decision-making processes through the use of custom labels. When a food item has research linking its consumption to heart health, that's worth bragging about and celebrating. Brands will have to make sure the facts supporting their claims fit within legal guidelines, however, due to evolving labeling rules. Clear that hurdle and a label advertising heart benefits can become a bonus to consumers looking for diet tips.
Celebrate a Good Cause
In addition to simply promoting their items' health benefits, brands can run campaigns to generate awareness that addresses the important topic of heart health. This is another powerful use for custom food product labels, with the brand using some space on its packaging to either link up with a related charity during February or present statistics on heart health that will give customers food for thought. This use for labels goes well alongside the one described above - companies that make heart-healthy products are great candidates to raise awareness or funds.
Temporary or Year-round
While it may be best for companies to produce short runs of product labels that will only be used during February and carry heavy branding related to heart health, keeping to a good diet is an important idea at all times. This means there's plenty of room to either use designs that play up heart health benefits without mentioning February, or deploy one temporary design during the month and another new look for year-round use. Custom nutritional labels touting the health advantages of particular foods will be worthwhile whenever customers see them.
"American Heart Month is an important time to support consumer health, but keeping a healthy diet is absolutely critical all year. We're sure brands will find creative and great-looking label designs that raise awareness of this vital topic and help their customers eat well," stated Lightning Labels Director of Business Development AnneMarie Campbell.
Working with Lightning Labels
The time is now for food and beverage producers to order custom labels showcasing American Heart Month or any other health-related event, Lightning Labels is ready to act as a valuable partner. As a company built on a reputation for speed and efficiency, Lightning Labels can ensure that companies have labels ready to address American Heart Month, even though February is already underway. Now in its 15th year of serving customers, Lightning Labels uses high-quality all-digital printing processes to bring brands' visions to life.
About Lightning Labels:
Lightning Labels uses state-of-the-art printing technology to provide affordable, full-color custom labels and custom stickers of all shapes and sizes. From small orders for individuals to the bulk needs of big businesses, Lightning Labels is equipped to handle and fulfill custom label and sticker projects of all types. Best of all, like the name implies, Lightning Labels provides a quick turnaround for every customer's labeling needs. Uses for Lightning Labels' custom product labels and custom stickers include food packaging and organic food labels, wine and beverage labels, bath and body labels, and nutraceutical products, such as vitamins, essentials oils, and herbal remedies, as well as event stickers, adhesive window stickers and more. Lightning Labels strongly supports the development of environmentally friendly printing materials and carries EarthFirst PLA, a new kind of green label material made from corn instead of petroleum. While operating as a high-tech printer, Lightning Labels prides itself on its personalized customer service. Lightning Labels provides one stop shopping for all of your custom label needs. For more information and to place orders online, visit LightningLabels.com. For the latest in packaging news and labeling promotional offers, find Lightning Labels on Twitter (@LightningLabels), Facebook, Instagram, Pinterest, Google+ and LinkedIn.