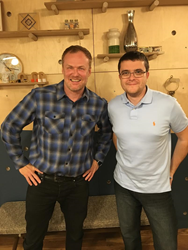 YayPay is re-imagining the back office to become the fast office, enabled by AI and machine learning.
San Francisco, CA (PRWEB) February 10, 2017
Accounts receivables SaaS platform YayPay is turning the finance back office upside down by putting the power of AI in the hands of businesses to speed up collections and better predict their cash flow. Now, businesses can utilize AI and advanced technologies to take control of their accounts receivables management through robotic process automation to minimize the need for teams to do repetitive communications and payments tasks.
"YayPay is re-imagining the back office to become the fast office, enabled by AI and machine learning," explains Anthony Venus, YayPay CEO. In addition to AI, YayPay provides automated workflows for the AR process. Venus continues, "We are a new way for finance teams to manage accounts receivables by leveraging data and automating payment communications to accelerate collections, better manage customer relationships and predict cash flow."
Founded in 2015, YayPay relocated to San Francisco (from New York City) in January 2017 to join Batch 20 of 500 Startups. 500 Startups selected YayPay for its new FinTech Accelerator (launched in June 2016) that focuses on building the next generation of financial services. Launched in December 2016, the YayPay platform supports middle-market companies. With initial customers in the Adtech, software and medical devices industries, now YayPay is expanding the client base to include professional services, manufacturing, technology, wholesale trade and advertising / media. YayPay partners and integrates with industry-leading ERPs and financial management platforms.
About YayPay: Founded in 2015 by Anthony Venus (@Ant_Venus) and Eugene Vyborov (@evyborov), YayPay accelerates cash flow and automates accounts receivables with features including intelligent workflow and automated email reminders, dedicated CRM for AR, on-demand analytics, dynamic aging report and predictive cash flow reporting. YayPay integrates with industry leading accounting and ERP platforms including NetSuite, Intacct and QuickBooks. A past graduate of TechStars in Boston, YayPay is currently a member of the 500 Startup Fintech Accelerator. YayPay has raised an angel round of $1,000,000 and will be raising an institutional seed round in the Spring 2017.
About 500 Startups: 500 Startups is a global venture capital seed fund with a network of startup programs headquartered in Silicon Valley with over $275M in committed capital across 4 main funds and 13 micro funds. We have invested in 1,600 technology startups all over the world since our inception in 2010 including: Credit Karma, Grab, Udemy, Ipsy, TalkDesk, Intercom, MakerBot (acq'd by Stratasys Ltd.), Wildfire (acq'd by Google), and Viki (acq'd by Rakuten). Our team of 150 people based in 20 countries manage seed investments across 60 countries and speak over 25 languages.