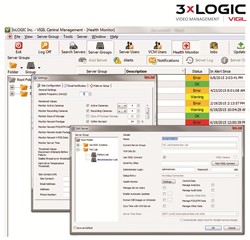 With 3xLOGIC's VCM as part of that system, we offer a whole new level of service, a true managed service. Now, we know when a camera is down before the end user does. Jeremy Bates, Owner Bates Security
Westminster, Colorado (PRWEB) February 08, 2017
3xLOGIC, Inc., a leading provider of integrated intelligent security solutions, today announced continued solid uptake of its VIGIL Central Management (VCM) software, amid excellent feedback on the deployment of VCM in the field.
VCM provides security professionals with the tools they need to effectively manage and monitor multiple 3xLOGIC VIGIL Servers and VISIX cameras over IP networks. With VCM, users are notified immediately if there is an issue with a server or camera connected to their network. This allows potential problems to be resolved proactively before a loss of critical video or service occurs.
Bates Security Finds RMR Success
Jeremy and Bryan Bates, owners of Bates Security (and Sonitrol of Lexington, KY and Jacksonville, FL), are among the most successful to date in implementing VCM as a managed service offering for their customers. "We don't sell systems unless there is a full-service maintenance contract," explained Jeremy Bates. "With 3xLOGIC's VCM as part of that system, we offer a whole new level of service, a true managed service. Now, we know when a camera is down before the end user does. Unlike in the past, when you found out a camera was malfunctioning because you had no video of that recent incident you really needed to see."
Bates Security has 176 3xLOGIC video surveillance systems and counting that are utilizing the VCM managed service offering. "VCM as part of our managed services significantly strengthens our value proposition," said Bryan Bates. "Our video systems also include a monthly investment. This monthly investment provides real value to the client because of the work Bates Security does every day to deliver the best possible video solution. Clients can rest assured that their cameras and video servers are functioning and that they will deliver video when it matters most. The monthly investment also covers the equipment, should it have problems, and even replaces a camera with the latest, best model if it can't be repaired.
VCM Facilitates Deeper Customer Relationships
VCM as part of a managed services agreement sounds great in theory, but the Bates have repeatedly seen it in action. One customer had accidently turned off a camera that provided views of a parking area. VCM sent an alert, and a Bates Security administrator contacted the end user to get the camera back online. Within a day or two, the video surveillance system caught two perpetrators throwing a brick through a car window in the parking area and making off with a purse. The video images were quite clear, and the police were able to apprehend the suspects based on the video evidence. Without this level of technology and service, it's likely the camera would have remained down and the incident left unrecorded.
"If that end user had bought his system off the internet or from an integrator not providing full service, he's probably got nothing," said Jeremy Bates, "because he didn't invest in a total solution." Bryan Bates added, "VCM gives us many opportunities to 'touch' the client, to provide consistent value, to have a conversation and stay current with their needs and mindset. It's a very valuable tool for us."
The 3xLOGIC VIGIL Central Management software's main end user benefits include,

VIGIL Server, NVRs and VISIX camera health monitoring
Email/text alerts of health monitoring events (number of recording cameras, hard drive storage, processor utilization)
User account and permissions management
Remotely deployable VIGIL Software Suite updates
Back-up and storage for Server configuration files
About 3xLOGIC
A leader in the Security industry for more than 15 years, 3xLOGIC is known for providing complete, easy-to-use surveillance solutions that seamlessly integrate audio, video, access control and disparate data such as ATM, Point-of-Sale (POS), analytics, etc. 3xLOGIC's video surveillance solutions are engineered for scalability and are remarkably simple to install, use and service. Employing the latest advances in NVR, VMS, IP camera, analytic, cloud, and now access control technologies, 3xLOGIC delivers high-value business intelligence anywhere, anytime and from any device. For more information about 3xLOGIC, please visit our website http://www.3xlogic.com.
For Media Queries:
Bruce J. Doneff
Public Relations
843.476.3022
doneff(at)verizon(dot)net
For 3xLOGIC:
Wendi Burke
Senior Director of Marketing
720.945.7966
wendi.burke(at)3xlogic(dot)com
###