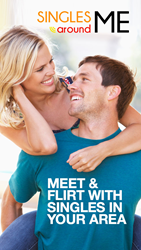 One of the world's best dating apps
New York, New York; London, England; Ottawa, Canada (PRWEB) February 09, 2017
SinglesAroundMe, the world's first location based dating app and today one of the most popular, announced the launch of two exciting new tools that are designed to help singles find that secret someone this Valentine's Day and beyond.
The new byChance tool brings missed opportunities back to life and provides users with a second chance to make a first impression. byChance displays a list of singles that users crossed paths with throughout their day. It provides people with a fresh way to spark up a conversation and shows the general area where the two people crossed paths. If both users "Like" each other, they can freely start a conversation. In addition the new MingleRoom is a place where the most active singles can meet, where time is not wasted but where engaging conversations can occur.
SinglesAroundMe CEO Christopher Klotz recently commented "We are continuing to challenge ourselves on new ways to harness the large amount of user data that we have to connect singles in fresh, new, helpful ways. The MingleRoom and byChance are but two examples of our latest innovation that are helping to bring nearby singles together not just this Valentine's Day but everyday."
The core feature of the SinglesAroundMe app displays the Last-Check in location of users on a heart centric geo-map and offers users the ability to swipe through profile faces of singles that are nearby. Users can choose to show, hide and even shift their location with the company's patent pending Position-Shift technology that moves them away from their real location by 2-5 miles. On every profile, users have the option to "Like" someone, which if returned, freely opens the chat gateway between users.
Download a copy of SinglesAroundMe for either Android or iOS users and experience the difference.
About SinglesAroundMe®:
SinglesAroundMe® (SAM) is a leading social discovery mobile dating app and was the first of its kind when originally launched for the iPhone in 2010. SinglesAroundMe disrupted traditional online dating models and today is used in over 100 countries by over ten million singles; it's the new way for people to discover, socialize and meet each other.