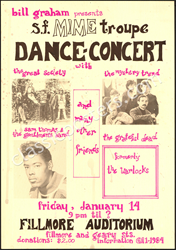 When great collections are sold, Classic Posters sells them
Evergreen, Colorado (PRWEB) February 09, 2017
Classic Posters is pleased to announce an amazing sale featuring 433 lots of rare memorabilia from famous 1960's rock concerts promoted by Bill Graham at the Fillmore Auditorium, Chet Helms' Family Dog at the Avalon Ballroom, and Russ Gibb at the Grande Ballroom.
This auction will begin on February 23, 2017 at 1pm MST and run for ten days, closing on March 5, 2017 beginning at 6pm MST.
Items in all price ranges are featured in this sale, including such important rarities as:

Ultra-Rare AOR 2.39 Appeals III poster listing the Grateful Dead as The Warlocks
An original FD-1 Family Dog poster featuring Jefferson Airplane
Famous original BG-105 Jimi Hendrix "Flying Eyeball" poster
Original Rick Griffin artwork for the FD-79 Big Brother & the Holding Company poster
Rare original FD-26 Grateful Dead skeleton and roses poster
Performers represented include the Grateful Dead, Jefferson Airplane, Jimi Hendrix, Janis Joplin, Cream, The Yardbirds, Frank Zappa, The Who, Santana, The Doors, Andy Warhol, and many others.
Lots for this auction are available for viewing at Classic Poster Auctions.
In addition to our quarterly auctions, we have the world's largest selection of vintage concert posters and handbills from Bill Graham, the Fillmore Auditorium, Family Dog, Avalon Ballroom, Russ Gibb, Grande Ballroom, Art of Rock and numerous other venues. You can view our current inventory offerings at Classic Posters.