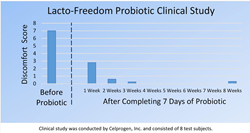 I can't thank you enough for inventing this product...It's literally changed my life.
Milford, PA (PRWEB) February 09, 2017
People with lactose sensitivity will now receive some relief as Ken Manzo, the founder of Manzo Pharmaceuticals LLC, unveiled the health benefits of the company's new and unique patented supplement "Lacto-Freedom Probiotic." Lactose sensitivity is a common health challenge which results from the inability to properly digest lactose, a sugar found in milk and other milk products. This is caused by the deficiency of lactase, an enzyme in the human body which is normally produced by the cells lining the small intestine.
After consuming food that contains lactose, people with lactose sensitivity regularly experience abdominal pain, bloating, gas, diarrhea, and nausea. The discomfort can range from mild to severe, depending on the quantity of lactose consumed and the tolerance level of the person.
To provide relief to the people with lactose sensitivity, Manzo Pharmaceuticals, LLC., along with Celprogen, Inc., researched, produced, and made available its unique patented supplement "Lacto-Freedom Probiotic." This nutritional supplement which is specifically designed for people who have difficulty tolerating lactose assists in the digestion of foods containing lactose thereby relieving users from the discomfort that is associated with lactose sensitivity.
As explained by Ken Manzo, "Lacto-Freedom Probiotic is consumed for 7 days and stays in the intestines and produces the enzyme lactase which aids in the digestion of lactose thereby eliminating or greatly reducing the discomfort associated with lactose sensitivity. The use of Lacto-Freedom Probiotic has allowed lactose sensitive people to enjoy milk and other dairy products without experiencing the digestive discomfort resulting in many positive customer reviews."
Now lactose sensitive people, who have difficulty tolerating dietary lactose, are no longer limited to the two options of either avoiding foods containing lactose or taking lactase supplements at the beginning of every lactose-containing meal. The probiotic is more economical and convenient than taking lactase tablets as the effects of the supplement last for months when consumed only for 7 days.
Click here to see a video on "How Lacto-Freedom Works"
Lacto-Freedom Probiotic:
Taken for only 7 days and effect and relief last for months.
Aids in the digestion of lactose-containing foods.
Patented, clinically tested.
More convenient and more economical than taking lactase tablets or consuming lactose-free foods.
Click here to watch a video on "How Lacto-Freedom Probiotic Works in the Intestines."
For more information about Lactose freedom probiotic and to purchase, visit: LactoFreedom.com
Follow us on Facebook /Manzopharma
About Manzo Pharmaceuticals, LLC
Manzo Pharmaceuticals is a private firm established by Ken Manzo R. Ph., and is located in Pike County, Pennsylvania. Ken is the inventor of the patented Lacto-Freedom Probiotic and co-developed it with Celprogen, Inc., a biotech company in California. Ken Manzo is a licensed pharmacist in New York, New Jersey, and Pennsylvania. For further inquiries contact Ken at manzopharma(at)outlook(dot)com