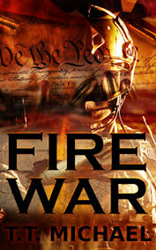 [The sales spikes are] no doubt in large part a result of the fear, real or imagined, of this presidency.
Washington, DC (PRWEB) February 09, 2017
The first days of the Trump presidency have been great for book sales, at least for one particular kind of book – doomsday "or dystopian" book sales are skyrocketing. George Orwell's "1984" and the Sinclair Lewis 1930's classic "It Can't Happen Here" about a gradual fascist takeover of the United States have both recently hit Amazon's Top 5 best seller list. "1984" spent three days at number one and sold so many copies that the publisher ran out of stock and is rushing to print more to meet demand.
The best-seller's list has also seen a big uptick in sales for dystopian classics "The Handmaid's Tale" by Margaret Atwood, "Brave New World" by Aldous Huxley, "Fahrenheit 451" by Ray Bradbury, and Trump's own "The Art of the Deal."
"It Can't Happen Here," first released way back in 1935, vaulted back into the top 10 over the weekend. Meanwhile, Penguin Books, the publisher of "1984," is rushing to print more copies after comparisons of Trump spokeswoman Kellyanne Conway's "alternative facts" comment to Orwell's idea of "newspeak" vaulted the book to both #1 and sold-out status in just hours.
"It's no doubt in large part a result of the fear, real or imagined, of this presidency," says "Fire War" author T.T. Michael who penned the three book series long before most people really imagined Trump in the White House. "Fire War" is a dystopian thriller set in the not too distant future where unemployment has been eradicated, terrorism has been quashed and borders are closed without walls, but all at the gradual and devastating cost of personal liberties and democratic rights.
T.T. Michael's "Fire War" trilogy actually foreshadows several specific subjects already in play in the first weeks of the Trump presidency including closing the borders, opening oil pipelines, mass travel bans, and the Trump administration's mantra of "putting America first." Michael said he had no idea that "Fire War" would potentially hit so close to home for so many.
The same holds true for Sinclair Lewis's "It Can't Happen Here." Written during the Great Depression, when the United States was paying little attention to Hitler's aggression, it features the rise of a president who becomes a dictator to save America from the liberal press, welfare cheats, sex and crime.
Talk with "Fire War" trilogy author T.T. Michael (a card-carrying member of the National Concealed Carry Association, by the way) about the renewed popularity of dystopian books, whether the fear is justified, or if everyone should just calm down.
Contact Allen Media Strategies' Jessica Lloyd at jessica(at)allenmediastrategies(dot)com or call (703) 589-8960 to request "Fire War" reviewer copies and interview availability.