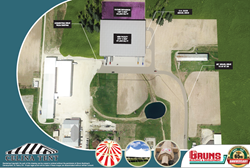 This modern distribution center will allow us to serve customers all over the world in all business sectors in the most efficient method.
Celina, Ohio (PRWEB) February 09, 2017
Celina Tent, Inc has made plans to build a brand new Celina Tent Distribution Center adjacent to their headquarters in Celina, OH. Celina Tent has agreed to contract through Bruns Building and Development, an area leader in commercial and industrial construction. The groundwork for the new facility has started to take place and is expected to be complete in the late Fall of 2017.
An Expansion for Celina's Customers' Growing Needs
With an ever-growing and wide variety of production lines – commercial tents, military structures, printed products, and industrial products and services – space on the Celina factory floor is at a premium. As with any growing business, Celina has continued to expand both product lines and markets to keep up with demand.
President of Celina Tent, Jeff Grieshop, stated, "The 100,000 square foot distribution center is the next logical step in our growth plan. This modern distribution center will allow us to serve customers all over the world in all business sectors in the most efficient method. Celina will now be able to provide value added services to our customers, including kitting, custom packaging and private labeling. Currently our on-time delivery rate is over 98%. The improved warehouse layout and technology will be our next step in achieving 100% on-time delivery."
New Warehouse Provides Storage Space
The new building will be significantly larger than Celina's current warehouse facility, which is currently located in the nearby town of Coldwater, OH and has approximately 54,000 square feet of storage space. By creating a newer warehouse with a closer-proximity to manufacturing, Celina will be able to increase efficiency and decrease lead times for customers. The new building will be almost twice the size of Celina's current warehouse– measuring in at 100,000 square feet of space – and will be located right on their main manufacturing grounds. The added building height will help to create additional storage and maximize space. High Bay Storage Areas upwards of 43' feet tall will allow Celina to have an abundance of vertical storage space –meaning more product ready to be shipped to customers at a moment's notice.
Moving Toward the Future
Celina Tent states that the best part about the new warehouse location is all of the possibilities that the new space opens up to both them and their trusted and valued customers. With the added space, Celina will be able to combine shipment consolidation, item kitting, and distribution into one area for all of their product lines – from the standard tents and event items of commercial sales to the more specialized ducting, agricultural, automotive, and industrial products that move through their plant. Dedicated space for this purpose is great for items that may be larger and more challenging to handle. Anything irregular, bulky, or otherwise freight-designated items can be easily packed, wrapped, and sent directly to the end-user's doorstep. This means shorter lead times on all products!
Situated within walking distance of Celina's production buildings and main offices, the new Distribution Center has the added benefit of space to the North and West for building expansion when needed. The current completion date for the new building is November 1st, 2017.
More information on Celina's partner in the project, Bruns Building and Development, who are celebrating their 65th Anniversary, can be found on their website, http://www.BrunsBuilding.com.
###
You can find more information about Celina Tent on their websites http://www.celinatent.com, http://www.celinaindustries.com and http://www.gettent.com.
Tel: 866-438-8368
Email: Sales(at)CelinaTent(dot)com