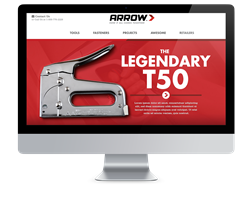 Arrowfastener.com is a go-to destination site for project know-how and tool tips.
Saddle Brook, NJ (PRWEB) February 15, 2017
Arrow Fastener Company, the creator of the iconic T50® stapler, is inviting do-it-yourselfers to explore its all new interactive website highlighting its user-friendly, smart tools and introducing everyday project ideas to a new generation of weekend warriors.
Want to know what kind of stapler to use to install a new wood floor? Or, do you need to check what size staple is right for art canvas? Need to know which glue gun is best for crafting? How about how to load a bottom-loading electric stapler? Just ask Arrow.
"The new site focuses on the products it takes to tackle and complete a variety of simple home improvements and projects," said Bill Sokol, Vice President, Marketing. "Arrowfastener.com is a go-to destination site for project know-how and tool tips."
The site includes extensive product information to help customers understand Arrow's complete range of solutions, including technical data, videos and project case studies. The 'Awesome' section of the site links users to Arrow's social media activity so they can be connected to the latest company and industry news, while Arrow's homemade videos show tools in action. Within the confines of the site, customers can head over to the 'Projects' tab to browse project ideas and learn helpful tips and tricks, and pick-up skills from other DIYers and industry pros.
The Right Product – And the Right Staple – for the Project
Arrow Fastener makes it fast and easy for users to find the right staple, stapler, pneumatic tool, glue gun or hammer tacker to meet a specific need. The emphasis is on projects, not merely products, and the site offers a new way to select tools online.
Content like tutorials and DIY tips will be continuously added to the site under the dedicated projects section so that there is always new information from a variety of pros and DIYers. The company also solicits help from DIY bloggers to demonstrate simple, DIY projects and crafts, as well as the tools they use. New projects and ideas for seasonal crafts and practical tips will be added to the site on an ongoing basis. All users can share their projects via Pinterest or Facebook. In order to stay connected with Arrow, the user can subscribe to and follow various social media channels to stay up to date on any new and useful developments.
The new website has been designed to provide the ultimate user-friendly experience with improved navigation and search functionality, allowing customers to access detailed product – and project – information and videos with the option to share across all major social networking sites. The site ensures that visitors have a user friendly experience across their mobile devices, desktops and laptops.
At nearly 90 years young, Arrow Fastener continues to innovate tools and crafting items for a new generation. Arrow Fastener has tools to fix almost everything – from broken screens to loose lattice. Its wide range of easy fastening tools can be used to reupholster a favorite easy chair or give a fresh look to a bed headboard. Staples and glue guns are essential for crafts and hobby projects, and Arrow offers a full assortment of easy-to-use products. Building pros have relied on Arrow® products for decades for jobs like fastening roofing felt to insulating the attic to fastening wires and cables.
###
Like us on Facebook
About Arrow Fastener Company
Arrow Fastener Company, LLC is a leading manufacturer of manual and electric staple and nail guns, glue and rivet tools which are sold to consumers and commercial contractors, primarily through home centers, mass merchants and specialized retailers. Founded in 1929, Arrow Fastener was acquired by Masco Corporation (NYSE: MAS) in 1999. For more than five decades, the T50® staple gun has been the industry standard, as the world's best-selling staple gun. Today, Arrow Fastener is a trusted supplier of reliable, innovative and affordable products for the building trade professional and do-it-yourselfer. For more information, visit http://www.arrowfastener.com.
About Masco Corporation
Masco Corporation (NYSE: MAS), parent company of Arrow Fastener, is one of the world's largest manufacturers of brand-name consumer products for the home and family, including Behr® paint, Delta® and Hansgrohe® faucets, bath and shower fixtures, KraftMaid® and Merillat® cabinets, and Milgard® windows and doors. Masco is also a leading provider of services that include the installation of insulation and other building products through Masco Contractor Services and Masco Home Services. Visit http://www.masco.com for more information on the Masco family of brands.