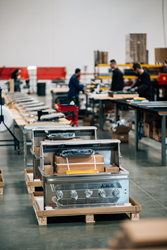 "The outdoor industry is growing exponentially and more companies are entering the market claiming to offer the latest and greatest. What sets us apart is truly a commitment to quality and a product that delivers." Jeff Straubel, President and CEO
Huntington Beach, CA (PRWEB) February 23, 2017
Summerset Professional Grills, an industry leader in outdoor grills, kitchens and accessories, announces its expansion into a new state-of-the-art facility to support its rapid growth and dedication to growing its custom American-made components and the American Muscle Grill (AMG). While many manufacturers are moving production out of the country, Summerset is investing in American manufacturing and new jobs that will help the economy and support its growth strategy.
Summerset made a multi-million dollar investment in its new warehouse space and equipment, which includes 20,000 square feet for production and 50,000 square feet for inventory, parts, and materials. The new plant features the latest automated CNC (Computer Numerical Control) equipment, a Fiber laser-cutting machine, and other state-of-the-art equipment. Summerset's design and manufacturing will be enhanced by 10 times with the increased space and new machinery. The expansion is a direct result of Summerset's phenomenal growth over its short eight years of business, which has earned the company trust and credibility across the country in its channels of distribution.
Founded in 2009 by President and CEO Jeff Straubel, Summerset has enjoyed double-digit growth year over year and year-to-date sales are expected to double in 2017. With its focus on American-based manufacturing, Summerset will add new jobs and dealers, which includes 35 new dealers signed in California alone in 2016.
"The outdoor entertaining industry is growing exponentially and more companies are entering the market claiming to offer the latest and greatest," says Straubel. "What sets us apart is truly a commitment to quality and a product that delivers. This new facility will enable us to focus on American-made manufacturing and provide exceptional build quality, value, and superior customer service, for which the company is well known."
The AMG is Summerset's hero product that is made in the USA and targets a demographic passionate about grilling, smart design, and an audience willing to pay for quality. Featuring multiple fuels, including wood chunks, lump coal, charcoal, infrared, propane or natural gas, the AMG excels in performance over its single fuel competitors and gives the user flexibility, which is unlike any other grill in the industry. Summerset stands behind the AMG and all of its products with a lifetime warranty; the best grill warranty in the industry.
"The AMG is so different but simple," continues Straubel. "From the rugged griller that loves to cook over an open fire, to the connoisseur that wants flexibility while cooking and a sleek design, this product delivers on all levels."
Summerset Professional Grills milestones by the numbers:

100 million+ affluent consumers reached in multi-million dollar advertising program
Over $2 million investment in new state-of-the-art equipment at Huntington Beach facility
More than 35 new dealers in California in the past year
12 Summerset trailers traveling across the country holding demos and spreading the word
Summerset on track to exceed expected 7 percent industry growth average by four times in 2017
About Summerset™ Professional Grills
Summerset Professional Grills, makers of the American Muscle Grill, offers a complete line of commercial grade, stainless steel gas grills, freestanding grills, BBQ islands, Fire Pits, and a complete line of island components. The company's commitment to quality is reflected in the craftsmanship of its stainless steel BBQ grills and components and is backed by the full support of the Summerset warranty. Summerset Professional Grills is a company born of experience with 20 years of leadership in manufacturing and branding. The company's core focus is providing consumers with three things that are paramount in today's economy: exceptional build quality, amazing value and personal service. For more information, visit http://www.summersetgrills.com.