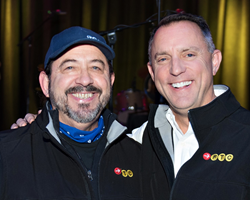 Fairfield, CT (PRWEB) February 08, 2017
Founded as a nonprofit performing arts center in 2001, the Fairfield Theatre Company (FTC) is a leading force in the Fairfield County arts and cultural scene. From the beginning, FTC's Board members have been instrumental in the success and growth of the organization. Today, FTC welcomes their newest Chairman of the Board, Jamie Orvis.
Orvis grew up in Wilton and has lived in Fairfield for the past 25 years with his wife, Anne, who teaches at Southport Congregational Pre-School. He is a graduate of Middlebury College and Harvard Business School. His son is a senior at St. Lawrence University and his daughter a freshman at Skidmore. Orvis is the second-generation owner and president of Security Solutions, Inc., a family-owned systems integration company that has been providing burglar alarms, fire alarms, card access, video, telephone and entertainment systems to residential and commercial clients since 1969. An avid golfer, he is a member of Brooklawn Country Club.
Orvis has been an FTC Board member and the chair of the Building Committee since 2009.
When discussing his new role, Orvis said "I am a live music fanatic and I saw a perfect opportunity to be involved with a nonprofit organization that is doing great things for the community. I also get to have fun while volunteering my time. Since the beginning, I have been focused on the physical plant while chairing the building committee. Executive Director John Reid and I built the FTC Gallery bar together and prepared for the opening of the FTC Gallery, which is curated by Art/Place, a cooperative of Fairfield County artists. That led me and fellow Board Member, Ryan Moran, to share the general contractor responsibilities for the construction of the Warehouse."
The Warehouse is the highly acclaimed 640 capacity performing arts venue on the FTC campus in downtown Fairfield that opened in September 2015.
The development of the FTC campus has been a gratifying experience for Orvis. However, that's not all that attracts him to the organization.
"The fact that FTC has become one of the primary economic drivers in the town of Fairfield is powerful," he explained. "Our patrons have helped to make our town more vibrant and economically sound. That's what I'm excited about. The town has rallied around and embraced FTC, which has become the place to see and be seen. Many shows become town-wide social events."
When asked what he hopes to accomplish during his tenure, Orvis commented, "I hope to help refine our mission and improve the operational metrics to ensure that we are consistently able to successfully meet the financial and artistic challenges that are common to performing arts organizations."
When asked what his favorite concert at FTC has been over the years, Orvis struggled to choose only one. "That's a very tough question as there have been so many shows," he said. "My favorite is probably Little Feat on StageOne back in 2011. Also, Anders Osborne, Stanton Moore and Ivan Neville's super group, Dragon Smoke, and Umphrey's McGee at The Klein. Our patrons are very passionate about music and when the band is cranking it out and energizing the audience, who gives it right back, it builds from there. These shows had explosive energy going both ways."
Outgoing Chairman, Dave Rosenfeld, who nominated Orvis as his successor, remarked, "Jamie will be an excellent Chairman for FTC. His dedication and diligence have been obvious from the beginning and I am confident he will help take us to the next level."
Rosenfeld was instrumental in catalyzing the FTC Board to take on the daunting task of building the Warehouse and has been a stalwart champion for FTC for many years. He will continue to serve on the Executive Committee of the Board.
Executive Director, John Reid, when asked about FTC's new chairman, replied, "No one has rolled up his sleeves faster and further and worked harder for FTC than Jamie Orvis. He and I work exceptionally well together and I continue to be excited and optimistic about the future of FTC. We just launched a new campaign – The Loft at FTC – to revitalize the green rooms and artists' dressing rooms backstage and to build new offices, classrooms, and rehearsal rooms in the Loft, which is a wonderful space that hasn't been used for decades. As usual, Jamie jumped right into the middle of the project, and with his leadership and the ongoing support of the community, the state, our Board, and the entire FTC team, we are expecting great things in the days ahead."
Fairfield Theatre Company Board of Directors, 2017
CHAIRMAN: Jamie Orvis
VICE CHAIRMAN: Matt Rebold
TREASURER: Frank Pomer
CORPORATE SECRETARY: Charlie MacDonald
EXECUTIVE DIRECTOR & PRODUCING ARTISTIC DIRECTOR: John Reid
BOARD MEMBERS: Allison Ziering Walmark, Bill Sondheim, Bitsy Higgins, Brad Purcell, Chris Garcia, Cindy Johnston, Dave Rosenfeld, Edward Orenstein, Geoff Mullen, Greg Young, Ira Platt, James Wackerman, John Reid, Leslie Cober Gentry, Lou Heumann, Michael Mitri, Pete Burns, Ryan Moran, Thomas Febbraio
About Fairfield Theatre Company:
Fairfield Theatre Company is a highly-acclaimed non-profit performing arts organization located in the heart of downtown Fairfield. FTC presents over 300 concerts and events each year featuring outstanding national talent at FTC's StageOne and at The Warehouse. FTC's venues are widely recognized as being the best places to see live performances in the region. FTC's mission is to connect and enrich the community through the transforming power of the arts. For more information, go to fairfieldtheatre.org.