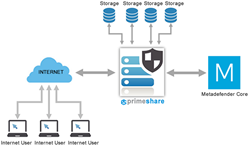 Through this joint solution we can offer our customers a file sharing product that's secure from end to end
(PRWEB) February 09, 2017
OPSWAT, Inc., provider of solutions to secure and manage IT infrastructure, and Primeshare, specializing in secure file sharing, today announced their partnership to provide secure and threat-free data flow for joint customers. The joint file sharing solution will keep files and data secure whether they're entering or leaving an organization's database.
Outbound data leakage is not the only security threat to companies, as productivity documents that are entering the organization's network may be potentially malicious and can cause severe security issues. The joint solution from OPSWAT and Primeshare provides protection against both kinds of breaches. Data entering the organization is scanned by multiple anti-malware engines and sanitized through Content Disarm and Reconstruction (also known as data sanitization).
Securing the entire sharing process is the major achievement of this joint solution, and this is accomplished by actually stripping exploitable content from shared files through Content Disarm and Reconstruction, and by scanning all files with multiple anti-malware engines for industry-leading detection of malware. Users will no longer have to be concerned about document-borne malware while sharing and accepting files from outside the organization.
Founded in 2009, Primeshare offers industry-leading secure file sharing. Primeshare's Secure Client Portal is a flexible and highly customizable file-sharing platform that includes a customized portal for clients, Secure Email, and Secure File Request.
OPSWAT's threat detection and prevention platform, Metadefender, combines next-generation Content Disarm and Reconstruction (data sanitization), vulnerability detection, and multi-scanning with over 30 anti-malware engines. Metadefender also offers a number of other security functionalities, along with flexible deployment options and dynamic REST APIs.
Benny Czarny, Chief Executive Officer at OPSWAT, said, "I am very excited about the partnership with Primeshare! Offering both data sanitization and multi-scanning through their cloud file sharing platform generates an impressive added value for the joint customer; and all of that requires literally only a few minutes to setup."
Anselm Kia Peng, Founder of Primeshare, said, "The fast growth of our product is an impressive sign that we are truly on the right path. But at the same time, our focus is on providing the most secure file sharing solution. Primeshare's expertise is in preventing potential data leaks. We turned to OPSWAT to leverage their expertise in processing and sanitizing the same data. Through this joint solution we can offer our customers a file sharing product that's secure from end to end."
Primeshare and OPSWAT encourage IT administrators to visit the joint solution product page to learn more about this solution.
About Primeshare
Primeshare was established in 2009 to provide the world's most secure and simple file sharing platform for businesses and individuals. Selected by a wide variety of businesses for the protection of sensitive information, Primeshare's Secure Client Portal provides a holistic and flexible platform that includes a customized portal for clients, Secure Email, and Secure File Request. Primeshare is the only file sharing platform that allows you to create your own client portal in minutes, provides best-in-class security, and allows you to choose where to store files. To learn more about Primeshare, visit Primeshare.net.
About OPSWAT
OPSWAT is a San Francisco-based cyber security software company that provides solutions to secure and manage IT infrastructure. Founded in 2002, OPSWAT has delivered solutions and technologies that protect organizations from threats and secure digital data for over a decade. OPSWAT's Metadefender platform is used by thousands of customers in defense, government, finance, critical infrastructure, and other industries, and its OESIS Framework endpoint security SDK has helped secure over 200 million endpoints. To learn more about OPSWAT, visit OPSWAT.com.