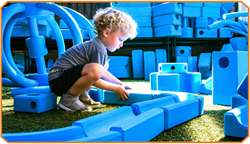 naturally we are thrilled to offer our new Plus set with more blocks – more blocks always equal more creativity, more fun for the children
New York, NY (PRWEB) February 09, 2017
The original Mix Block Set was launched October, 2016 – and has been highly successful - it includes 75 Big and Medium blocks. Today Imagination Playground launches their new Mix Set Plus – this set contains more blocks, 100 total blocks. The new Plus set is in response to customers asking for a larger Mix Set with more blocks for their children to enjoy.
Last year Imagination Playground mixed its Big blocks with its Medium blocks together, creating a combination that children found fun and engaging – and suitable for outdoor and especially indoor, classroom use – the set also offers more blocks at a more affordable price.
Imagination Playground President & CEO, Dave Krishock says "we are delighted that our original Mix Block Set has been such a hit with schools and family centers – our customers found exceptional playability and great value there - so naturally we are thrilled to offer our new Plus set with more blocks – more blocks always equal more creativity, more fun for the children".
Anyone interested in learning more about Imagination Playground – the Mix Block Set, the Mix Set Plus - or any of their creative building products and programs are encouraged to call 1-678-604-7466 or email ContactUs(at)ImaginationPlayground(dot) Org.
About Imagination Playground, LLC
Imagination Playground is a breakthrough play space concept developed to encourage child-directed, creative free play. The kind of play that experts say is critical to children's intellectual. Social, physical, and emotional development. Invented by architect and designer David Rockwell and the Rockwell group, Imagination Playground enables children to play, dream, build and explore endless possibilities. Imagination Playground finds its home in daycare centers, kindergartens, elementary schools, children's museums – and science, nature, discovery centers, camps, community centers, children's hospitals, hotels and resorts, public parks and more – in North America and over 70 countries around the world.
For more information, visit http://www.imaginationplayground.com