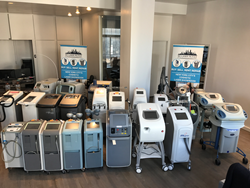 I love helping people reach a deeper understanding of the results the cosmetic laser equipment can achieve...I am excited to have this environment to be able to fulfill my passion. - Raechel Lowe, Director of Training
New York, NY (PRWEB) February 09, 2017
NY Laser Outlet a leading provider of sales, service and training in the new and pre-owned cosmetic, aesthetic and medical laser market, announced today that due to surging growth it has opened a substantially larger showroom off 5th Avenue in New York City.
The new showroom, which is located at 15 West 28th Street, 10th Floor, provides customers with a convenient "one stop shop" to discover and test a greatly expanded inventory of medical-grade laser equipment from a multitude of manufacturers -- including the acclaimed FormaTK product line, which offers four distinct devices for all phases of business development: new businesses, intermediate, larger businesses, and multiple locations.
Also as part of its expansion, NY Laser Outlet has added a new Director of Training, Raechel Lowe. Ms. Lowe is responsible for designing and delivering exclusive training programs to help customers take full advantage of their purchased or rented laser equipment, and generate the best results possible. Training programs range from orientations and overviews for customers who are new to the industry, to more advanced curriculum for customers who want to take their knowledge and business to the next level. "I love helping people reach a deeper understanding of the results the cosmetic laser equipment can achieve...I am excited to have this amazing environment in midtown to be able to fulfill my passion," said Lowe.
"One of the core reasons that we continue to grow in this highly competitive market is because, unlike conventional retailers and wholesalers, we do stop at just selling, renting or servicing equipment," commented NY Laser Outlet's founder Ari Marom. "We go much further by enabling our customers to grow their business, impress their customers, and generate more referrals. Our large new showroom, expanded inventory, and roster of training programs are expressions of this longstanding commitment. We are not merely a supplier to our customers, we are a dedicated partner in their continued success!"
For more information on NY Laser Outlet, including details on the company's 100% financing offer and flight cost reimbursement, call toll-free (800) 887-1966, fill out the web contact form for a prompt response, or visit the company's new showroom during normal business hours (Monday-Friday from 9am-8:00pm EST).