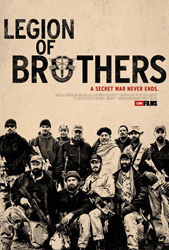 "You will laugh, cry, and walk out numb." - Col (Ret) Stu Bradin, GSF President & CEO
Tampa, FL (PRWEB) February 14, 2017
The Global SOF Foundation is offering an exclusive opportunity at its Global SOF Symposium on Feb. 22nd. Attendees will be able to watch "Legion of Brothers," an emotionally throttling documentary that focuses on the men behind the mission in Afghanistan, directly after the attacks of Sept. 11, 2001.
One of those men, retired U.S. Army Master Sergeant Scott Neil, reflects on his early days as a Green Beret. In an uncertain time, small units called ODAs worked with coalition forces and local tribes to overthrow Taliban leadership. They were efficient and successful, but in a time where the world had been rattled, their stories went untold. "Every soldier wants to make a mark and an impact...they also want to know that they'll be honored if they die."
A platform to share those stories came nearly fifteen years later in the form of a documentary pitch. Leadership at U.S. Special Operations Command, or SOCOM, saw that Hollywood was often creating explosive films about Special Operations Forces, starring big name actors and focused on direct action. SOCOM recommended that a documentary be developed that showed the human side of Special Operations, highlighting, as Neil said, "those who did it."
Global SOF Foundation President Stu Bradin, who at that time worked for SOCOM, supported the push for the documentary and eventually spoke to Peter Bergen, Tresha Mabile, and Greg Barker. The trio brought an impressive resume of experience and knowledge, but their passion for the accurate retelling of the stories of these Green Berets is what made them an ideal team to create "Legion of Brothers." Bradin knew that they had found the right team to make the film. "It was a lot of work to get guys that usually stay quiet to cooperate and open up," he said, "but an impactful story came together that really hits on the human interest side of Special Forces."
It helped that "Legion of Brothers" was not filmed in a traditional documentary style, as Neil proudly described. Instead, surviving members of the teams were flown to Moab, Utah, where they drove around in jeeps and reminisced by large bonfires, weaving their memories together. The film crew also visited with a group of the men's wives, many of whom had remained close and formed a sisterhood of their own. "That shows you the value of a network of family support that allows us to continue to fight in these remote locations," Neil said.
The film was selected for inclusion at the 2017 Sundance Film Festival, where it premiered on Jan. 21 and received, by several accounts, a five-minute standing ovation. While Neil was humbled and surprised by the reaction to the film, Bradin was not surprised by the success. "You will laugh, cry, and walk out numb. The music, editing, characters……it will hold you for the full 78 minutes," he said.
After the acclaimed premiere of "Legion of Brothers," the film's U.S. and international distribution rights were quickly scooped up by Gravitas Ventures and Content Media, respectively, according to CNN. While the release plans are not yet confirmed, the Global SOF Foundation has received permission to host a private screening of the film at its 2017 Symposium. The screening will be followed by a Question and Answer session that will include Bergen, Mabile, and Neil.
"This is going to be a highlight of our Symposium," Bradin said. "I don't know how we will ever top it."
--------------------
The Global SOF Foundation is a 501(c)(3) non-profit organization and the only professional association for the international Special Operations community. The Foundation mission is to both advocate for SOF resourcing and convene the SOF community.
https://globalsoffoundation.org/
The Global SOF Symposium brings together U.S. and international SOF leaders from Feb. 21-23, for an innovative event to discuss the importance of SOF enablers as well as critical ways for global SOF to interoperate, from tactics to policy.
http://www.globalsofsymposium.org/us