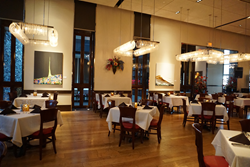 Churrasca and artist.com redefine dining experience in Houston
Houston, TX (PRWEB) February 09, 2017
Great art enhances the incredible dining experience at Churrasca Brazilian Steakhouse, a fine dining restaurant in Houston which is featuring http://www.Artist.com and the artwork of renowned artist J Antonio Farfan, whose fine artworks have been purchased internationally. Artist Farfan's work will be shown for the next two months.
One of the best ways to enhance a spectacular culinary experience is to surround oneself with an elegant and inspiring environment. One experiences both at Churrasca Brazilian Steakhouse, a fine dining Brazilian restaurant located in Houston, TX, on Westheimer near the Galleria. Well known for their great salad bar, perfectly prepared wide variety of meats, impeccable service, and exquisite ambience, Churrasca Owner Ricky Shieh and General Manager Regis Cerutti have collaborated with Artist.com to bring the artwork of one of the best artists in Texas to their restaurant. Churrasca owner Ricky Shieh states, "After being in the restaurant business for 20 years, I would like to bring to Houston an authentic Brazilian experience in a unique environment, combining centuries old traditions of grilling perfection with new concepts of beautiful restaurant architecture." Rhodalyn Suarez, Artist.com Chief Executive Advisor, also a frequent patron of fine dining restaurants, commented, "I find Churrasca is very elegant and stunning, with a modern interior design." She felt that "fine artwork would further enhance the terrific dining experience." She added, "the staff of Churrasca continue to add to and refine their menu, in order to give the customer a five star service… Artist.com believes that keeping the walls adorned with the finest art will further enhance the customer experience." Artist Farfan adds, "There is a wholeness to the combination of art, architecture and dining, and Churrasca lends itself to that experience."
Churrasca Brazilian Steak House is the new "Hot Spot" for the Churrasco experience - with fresh cuts of meats, grilled and served to perfection, keeping the tradition of centuries of the "Churrasco Art" from Southern Brazil. In addition they bring a new concept of the old traditional Brazilian Salad bar with an infusion of fresh seafood plates. At Churrasca you will find an upscale ambience with high ceilings adorned with modern lighting, along with stone and wooden walls. The beautifully appointed dining area combined with great service and very polite and courteous staff, will make your dinner memorable. Also, on the weekends, they have a Bossa Nova & Jazz Band that adds a nice touch for an entertaining night out.
Artist.com presents J Antonio Farfan, a renowned international artist who received a B.F.A. from the University of Houston, and underwent Independent Study in Paris, France, and New York City. The series of paintings exhibited at Churrasca are examples of a new age of discovery, where the curtain is lifted on old technology and revealed underneath is a new more conscious reality, where the internet is facilitating the sharing of new information across the globe.
Artist.com touches the lives of artists and art lovers throughout the world. Additional fine artists will be featured at Churrasca in the future. Artist.com produces and sells some of the highest quality fine artwork on canvas, fine paper, and aluminum metal. Products are available in a wide variety of high quality frames (including classic Italian designs) and mats. In addition, fine art printed on a diverse selection of products is available. Original artwork purchases can also be arranged.