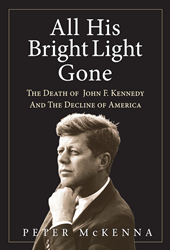 "It is no mark of health to be well-adjusted to a profoundly sick society,"...John Kennedy
New York, NY (PRWEB) February 14, 2017
John Kennedy feared that the United States would descend into chaos if the people lost their faith in government and turned to autocrats for leadership.
In the years after Kennedy's death, this is exactly what happened, according to Peter McKenna, author of All His Bright Light Gone: The Death of John F. Kennedy and the Decline of America.
"Kennedy was a scholar," McKenna says, "he understood how this country was designed to work by the Founders. We knew that we are a republic, and that a republic calls for the people to support government and participate in its affairs."
This is why Kennedy famously challenged the people to ask what they could do for their country and reminded us that government is a noble profession, the key to our success as a nation, the author said.
If subsequent presidents had continued Kennedy's respect for the role of government, the book asserts, the United States would not be a confused, dysfunctional country today.
But instead Kennedy's vision of America was reversed by those who followed him in office. "The worst offender," McKenna said, "was Ronald Reagan. He believed the private sector should be the most important factor in America, more important even than our central government. So he created an anti-government ideology that eventually destroyed the values Kennedy so briefly gave us."
This ideology, McKenna argues, made the election of an autocrat like Trump inevitable. "As a country, we have lost the solidarity and progress that faith in government provides. We are no longer a republic, and Trump took advantage of that. We face years of gridlock unless we return to the values Kennedy gave us."
For a review copy, please call 718-305-2286 or send email to lancer2(at)rcn(dot)com.