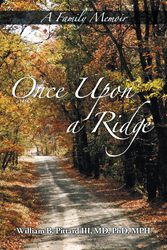 CHARLESTON, S.C. (PRWEB) February 13, 2017
Stories of cabin renovation and family bonding while surrounded by the natural beauty of Supin Lick Moutain in Rockingham Country, Virginia are detailed in William B. Pittard III's memoir "Once Upon a Ridge."
The book describes over three decades of experiences from the Pittard family of six on the Shenandoah Valley Supin Lick Mountain, including the social mores of the locals. The unique lifestyle of mountain folk is characterized by hard manual labor, awareness of God, willingness to assist those in need, and expectation that personal life decisions are respected by others.
"The book is directed to more traditional family oriented readers," said Pittard "Those who are reassured by spirituality, enjoy nature, and seek outdoor activities will find the book refreshing and rewarding."
While life for Supin Lick Mountain residents has changed in the last century with electricity, telephones, and reliable forms of transportation, its setting of dirt and gravel roadways and expansive trees have provided a peaceful retreat for the Pittard family.
"Once Upon a Ridge" highlights the Pittard family experiences in the midst of natural beauty and a unique mountain culture.
"Once Upon a Ridge"
By William B. Pittard III, MD, PhD, MPH
ISBN: 978-1-49179-243-8 (softcover); 978-1-49179-244-5 (eBook)
Available on Amazon, Barnes & Noble, and iUniverse
About the author
William B. Pittard III, MD, PhD, MPH, earned his medical degree from the University of Virginia, a master of public health degree in maternal and child health from the University of Alabama at Birmingham, and a Ph.D. in health services and policy management from the University of South Carolina. He is professor emeritus at the Medical University of South Carolina and formerly taught at Case Western Reserve University. To learn more, please visit http://www.pittardw.com.
###
Review Copies & Interview Requests:
LAVIDGE – Phoenix
Bryan Beach
480-998-2600 x 510
bbeach(at)lavidge(dot)com
General Inquiries:
LAVIDGE – Phoenix
Chris Pena
480-998-2600 x 519
cpena(at)lavidge(dot)com