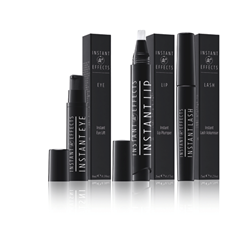 Boca Raton, FL (PRWEB) February 11, 2017
Instant Effects, a highly acclaimed clinically proven instant results beauty range based in London is now available for purchase on Amazon.com, the world's largest online retailer.
From the makers of Cult51 which is one of the most well-regarded luxury skincare brands in the world, comes an award winning beauty range praised by editors, makeup artists and celebrities. With Instant Effects now available on Amazon.com, the company has extended its reach to customers all over the globe.
"We are thrilled to announce that our Instant Effects products are now available for purchase on Amazon.com," said Richard Mears, the owner, founder and lead chemist of the skin care line. "Each of these three products deliver Real results in minutes or , which means they absolutely live up to their name. We are excited to be able to bring them to more consumers than ever before to help them achieve their beauty and skincare goals."
The Instant Effects product line contains three different products that, when used in conjunction, drastically reduce aging and wrinkles on different parts of the face. Instant Eye Lift, for example, minimizes wrinkles around the eyes and diminishes dark circles within 15 minutes. This is especially helpful for people who have been suffering from stress or a lack of sleep. It is a primer, moisturizer and a corrector all in one! Find it on Amazon.com for $33.30.
The second product, Instant Lash, provides the user with longer, thicker lashes. The formula applies like mascara and plumps up eyelashes by as much as 20 percent within just two minutes, then finish with Mascara. The more you use it, the better results you will get. In just 14 days of continuous use, your lashes can be 40% thicker and 20% longer. It's that easy! Available on Amazon.com for $35.00.
Finally, Instant Lip gives the user fuller, plumper lips nearly instantly. It is applied like clear lip gloss to increase plumpness by 20 percent in two minutes. Unlike other available lip plumpers on the market, Instant Lip does not have an unpleasant taste and does not sting during application. Purchase on Amazon.com for $35.00
"We are thrilled to be taking this next step forward with promoting our Instant Effects products, and are certain people across the world will appreciate them," said Mears.
For more information visit http://www.MyInstantEffects.com