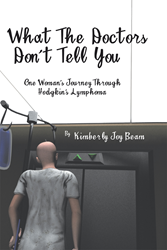 (PRWEB) February 13, 2017
In April 2010, Kimberly Joy Beam found a lump in her collarbone. A month later, she was diagnosed with Hodgkin's lymphoma. In a brutally honest account of her diagnosis, treatment and survival of cancer, Beam offers a glimpse into her life-changing experience and journey back to health in her new book, "What the Doctors Don't Tell You."
According to the American Cancer Society, nearly 1.7 million new cancer cases are expected to have been reported during 2016, approximately 8,500 of which were classified as Hodgkin's lymphoma. Beam's book offers insight rarely heard on this subject as she takes readers into the unknown with her and shares how cancer patients must often find many answers on their own.
"When a person is diagnosed with a sickness, everyone in that sick person's life reacts differently, and those reactions range from wonderful to hurtful," Beam said. "This book is my story about how patients often must make the journey through their sickness alone."
"What the Doctors Don't Tell You" also highlights another side of cancer that is scarcely seen: the humor of illness. Beam finds laughter in the most terrifying of times and offers hope and perspective for others fighting their own battles.
Whether a reader has experienced cancer or is close to someone else who has, Beam encourages them to find their fun, do things that scare them and follow their passions.
"What the Doctors Don't Tell You"
By Kimberly Joy Beam
ISBN: 978-1-496-97196-8 (hardback); 978-1-496-97161-6 (paperback);
978-1-496-97160-9 (electronic)
Available at the AuthorHouse Online Bookstore, Barnes & Noble and Amazon
About the author
Kimberly Joy Beam holds an MFA in creative writing from Goddard College and has previously taught language arts and English. After being treated for Hodgkin's lymphoma, Beam earned her Master's in social work at West Chester University and became a clinical therapist. Beam enjoys knitting floppy hats and fingerless gloves and currently resides in Merion Station, Pa.
###
Review Copies & Interview Requests:
LAVIDGE – Phoenix
Danielle Grobmeier
480-998-2600 x 614
dgrobmeier(at)lavidge(dot)com
General Inquiries:
LAVIDGE – Phoenix
Maggie Driver
480-998-2600 x 584
mdriver(at)lavidge(dot)com