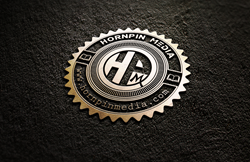 "Thirty-three Cecils is one of those rare examples in the modern marketing world of a product being successful --- completely organically and on its own."
Laguna Beach, CA (PRWEB) February 10, 2017
In the world of publishing, a profit and loss statement is performed for every new book released. From here, a publisher can determine how much money needs to be invested on the back end, in order to reach a desired sales level on the front. And if the model doesn't produce the desired sales then you can either walk away, or add more money in.
"You can usually make the sales get to where you want," says Kevin Cooper of Hornpin Media. "The question is at what cost and what risk."
And when a book is released it is measured in book sales. And if sales seem like the most important aspect of a book, it is --- and it isn't. What is even more desirable is what comes after that. What the industry refers to as 'jewelry'.
"Jewelry is the fun stuff that a book received after it's reached an extremely high level of sales. Once it's become commercially successful, then you receive the jewelry in the form of movie deals, speaking invitations and brand expansion opportunities. These are what publishers look forward to; because there is profit to be made on work that's already been complete."
In 2015, Blydyn Square Books, a small independent publisher, released a novel by author Everett De Morier entitled Thirty-three Cecils, which is collecting a great deal of jewelry. After winning a few literary awards and being named small publisher book of the year, Cecils had the film rights purchased by Hornpin Media and has a feature film currently in development. It has also received a great deal of positive reviews and has been named --- the novel you have to Google to see if it really happened."
"And the best part is," says Cooper. "The book has had extremely high success rates compared to its sales rate."
Now you would think sales would be the only key to judging a books success, but not here. "With a commercially successful book you see a rate of around 3% of the readership that become devoted fans. But the sales rates are so high with these books that this 3% is a large number of people. With Cecils, that number is closer to 70%. This book has had a fraction of the sales that larger books have had --- it has no distribution, no publicity budget and almost all of the sales came from word of mouth --- but it has created the same loyal fan base as the big boys. It's one of those rare examples in the modern marketing world of a product being successful --- completely organically and on its own."
Everett De Morier has completed the first draft screenplay for Thirty-three Cecils and Hornpin Media is currently developing it.