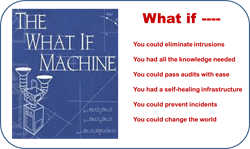 Do you have a system to ask questions that matter and do something about them?
Lenexa, KS (PRWEB) February 13, 2017
Today's NERC compliance and corporate security landscape is changing at the speed of light requiring NERC CIP and NERC 693 compliance groups to always be one step in front of evolving risks and regulations. A solid process needs to be in place to monitor, evaluate and act / react to changes in the workplace as well as technology advancements. How do you stay on top of it all while simultaneously running an organization? Do you have a system to ask questions that matter and do something about them?
That's where the Expert Advisor Program by Corporate Risk Solutions, Inc. (CRSI) comes in. CRSI understands the demands on you, the leader, as well as the security and compliance arena. Expert Advisor is a pre-planned twelve (12) month contract where CRSI provides you with a qualified compliance and security expert to develop and implement an effective compliance strategy and roadmap.
How does it work? – Simple:
Month One is all about Discovery – what is in place, what are the current plans, what are the strengths and weakness of the organization, and where is the process at risk? Once the information is collected, it is analyzed to define the starting line for a Roadmap for Success with monthly focused areas of attention.
Months Two and Three are all about Focus – identifying what needs to be put in place to ensure success. Examples could include gap analysis actions, awareness and education training, audit preparation planning, testimonial training, evidence management, etc.
Month Four is all about Connecting – evaluating all of the pre-planned actions coupled with making adjustments based on business demand, technology advancements, incidents, mock audit findings, etc. It is a time where the Roadmap for Success is updated looking forward.
This process is repeated on a trimester basis to ensure the Roadmap for Success enables you to respond in a proactive manner. The secret sauce for Expert Advisor is Guidance – having access to an expert to bounce questions, elicit ideas to strengthen your program, and gaining insights into new thinking.
Energy and Utility executives use the Expert Advisor in many formats spanning direct one-to-one with the compliance and security executive, a range of dollars where a senior expert is assigned as point with access to appropriate CRSI analysts to fulfill actions, and assigned mini-projects or burst actions on-demand.
Many energy and utility executives feel they are all alone on the security and compliance island making decisions to keep their facilities safe and protected. Expert Advisor provides a sounding board giving instilling confidence in guiding an organization through this journey.
You are not alone – Contact Corporate Risk Solutions, Inc. today to set up a discovery session to get started with Expert Advisor. John Zuniga via social media or call 866-492-7072.