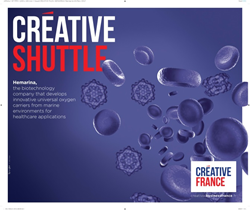 New York, NEW YORK (PRWEB) February 10, 2017
Business France, the French national agency supporting the international development of the French economy, today announced the United States winner of Créative Next, a social media contest that shines the spotlight on France's most innovative entrepreneurs around the world. Hemarina, a biotechnology company that develops innovative universal oxygen carriers from marine environments that are used in healthcare applications, was selected from a diverse group of businesses registered / established in the U.S. that were founded by French entrepreneurs demonstrating unparalleled creativity and excellence in their work.
"Hemarina is a shining example of how a new generation is carrying the tradition of creative genius into the future both in France and abroad in the U.S.," said Muriel Pénicaud, French Ambassador for International Investment and CEO of Business France. "We are pleased that Créative Next allows us to give Hemarina even greater visibility in the marketplace."
As the winners of the Créative Next contest, Hemarina joins the ranks of noteworthy French companies and individuals like 42, a private computer-training school established by Xavier Niel that just opened an outpost in Silicon Valley, and Cédric Villani, winner of the Fields Medal - the highest honor in the field of mathematics, in being featured by Créative France, an international campaign that highlights France's position at the forefront of business and innovation across industries, including technology, design, education, aviation and gastronomy.
The Créative Next contest kicked off in France in 2016 and has since been facilitated throughout nine countries across the globe, including India, Singapore and the United Kingdom. Each of the individual honorees showcases a new and exciting face of France with their disruptive innovations.
"Hemarina is honored to be named the winner of Créative Next in the U.S. and is excited to join French stars in their fields in promoting our native country's biotechnology strengths," said Dr. Franck Zal, CEO and Chief Scientific Officer of Hemarina. "We know that France is strong, ambitious and creative and look forward to sharing that message with the world."
Hemarina develops marine universal oxygen carriers for healthcare applications—a decisive, patented breakthrough technology in regard to current and past developments of hemoglobin-based oxygen carriers (HBOCs). A clinical trial will soon be completed at kidney transplant centers located at six French university hospitals using HEMO2life®, an additive in graft preservation solution. In addition, HEMOXYCarrier® is a therapeutic oxygen carrier that aims to restore optimal oxygenation of an organism without the side effects noted with the first generation of HBOC (i.e. vasoconstrictive and hypertensive effects). This feature has been demonstrated in a pre-clinical study carried out by the Naval Medical Research Center and the results of this collaboration have been published. Finally, HEMHealing® is a wound dressing designed to deliver the quantity of oxygen needed for the healing of wounds that are chronic or treatment resistant by means of a natural gradient of oxygen pressure, generating major interest from key players worldwide.
The potential of such breakthrough innovation and the market addressed are impressive: blood oxygen carrier market size was estimated to $72 billion in 2009 (Ernst & Young) in a worldwide blood shortage market of 100 million liters per year. Major HEMOXYCarrier® indications are emergency care related, including acute anemia or acute hemorrhage syndromes during post-injury phases. This innovation should allow rapid oxygenation recovery for patients.
Hemarina's business model revolves around finding win-win partnerships with life sciences or pharmaceutical companies who wish to incorporate Hemarina's technology in their medical devices or drug development process.
For additional information on Business France, please visit http://en.businessfrance.fr/ or https://twitter.com/businessfrance and for Créative France, visit http://creative.businessfrance.fr/ or https://twitter.com/creativefrance.
Business France
Business France is the national agency supporting the international development of the French economy, responsible for fostering export growth by French businesses, as well as promoting and facilitating international investment in France. It promotes France's companies, business image and nationwide attractiveness as an investment location, and also runs the VIE international internship program. Founded on Jan. 1, 2015, through a merger between UBIFRANCE and the Invest in France Agency, Business France has 1,500 personnel, both in France and in 70 countries throughout the world, who work with a network of public- and private-sector partners. For more information, visit http://en.businessfrance.fr/.
Hemarina
Hemarina is a biotechnology company founded in 2007 and headquartered in Morlaix, Finistère, France. The company specializes in the development of universal marine oxygen carriers. Hemarina has an office in Paris, a technical & commercial affiliate in Boston (Hemarina Inc.) and a production site located on the island of Noirmoutier (France).
Hemarina identified four applications which are highly creative for short-medium term value including three medical applications and one industrial application:
-A therapeutic oxygen carrier: HEMOXYCarrier®
-An additive to organ preservation solutions: HEMO2life®
-An oxygenating dressing: HEMHealing®
-An input for industrial bioproduction: HEMOXCell® / HEMBoost®
For more information, visit our website: http://www.hemarina.com