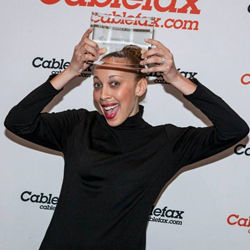 The FAXIES awards program has long recognized excellence in PR and marketing throughout the cable, broadband and television industry
New York, New York (PRWEB) February 11, 2017
Cablefax is accepting entries for The FAXIES, an annual awards program that recognizes the best in the PR & marketing, honoring the top campaigns in cable, broadcast, digital and tech plus the individuals and teams that make them happen. The entry deadline is March 3, 2017, and the late deadline is March 10, 2017.
For more information on The FAXIES, view award details.
"The FAXIES awards program has long recognized excellence in PR and marketing throughout the cable, broadband and television industry," said Michael Grebb, publisher Cablefax. "And now as content flows to myriad screens and upends established business models, there has never been a better time to highlight the most innovative and compelling PR and marketing campaigns and executives driving the industry forward."
Awards for the following categories will be given to winners and honorable mentions:
> Marketing Awards

Acquisition and Upgrade Marketing
Affiliate and Partnership Marketing
Marketing of a New Series or Show
Marketing of a Continuing Series
Marketing of a Special or Documentary/ Documentary Series
Media Event
Multicultural Marketing
Press Kit
Programming Stunt
PR Stunt
Shoestring Marketing
Sweepstakes and Games Marketing
Tchotchke
Trade Show Marketing/PR
Virtual Reality/Augmented Reality Marketing
> Social Awards
Social Media During a Program
Social Media Marketing
> Campaign Awards
Advertising Campaign for a Single Program
Advertising Campaign for a Network
Brand Image and Positioning Campaign
Integrated Marketing Campaign
Marketing Campaign
Media Relations Campaign
Public Affairs Campaign
> Communication Innovators
Marketer of the Year, VP Level, and Above
Marketing Team of the Year
PR Executive of the Year, VP Level, and Above
PR Team of the Year
> Community Awards
Corporate Social Responsibility / Green Campaign
Community Relations
Nonprofit Partnerships
For more information, visit The FAXIES Awards. Third Parties are eligible to compete on behalf of a client; the program is open to national and international entrants.
A celebration will be held on May 3, 2017 for honorable mentions and winners in New York City.
For questions regarding the FAXIES, contact Alex Virden at avirden(at)accessintel(dot)com.
For sponsorship and exhibit information, contact Rich Hauptner at rhauptner(at)accessintel(dot)com or Olivia Murray at omurray(at)accessintel(dot)com.
About Cablefax: Cablefax is the most trusted brand in the industry, providing cable executives with the most original, comprehensive and insightful overview of the latest industry news and strategic initiatives. Cablefax offerings include a wide range of resources for cable professionals, including Cablefax Daily, Cablefax: The Magazine, award programs, webinars, and networking events. For more information, visit http://www.Cablefax.com.