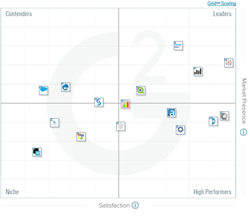 Chicago (PRWEB) February 09, 2017
G2 Crowd, the world's leading business software review platform, today released the Winter 2017 Self-Service Business Intelligence Software Grid report to help businesses make the best self-service business intelligence technology buying decision. Tableau Desktop, SAP Crystal Reports, Microsoft Power BI, Qlik Sense, and Zoho Reports were named Leaders in the report, receiving a strong customer satisfaction score with a large market presence.
Chartio, Dundas BI, Alteryx, and Izenda were named High Performers in the report, earning strong customer satisfaction marks with smaller market presence scores. Tableau Desktop earned the highest overall satisfaction score, while SAP Crystal Reports earned the highest overall market presence score.
The Grid leverages customer satisfaction data reported by authenticated users along with vendor market presence determined from social and public data. Based on a combination of these scores, each software solution is categorized as a Leader, High Performer, Contender or Niche.
Key Findings:

User adoption growth crawls — Self-service business intelligence tools continue to have a low user adoption at 52%, according to reviewers. However, this is a 3 percent-point increase from the previous Self-Service Business Intelligence Grid Report. Despite targeting non-analyst employees, self-service business intelligence solutions have a very similar adoption rate to business intelligence platforms and embedded business intelligence tools, which are also low compared to other software categories.
Mobile support lags — The lowest average score for a feature metric in the category is mobile user support at 72%. While some vendors do not offer mobile capabilities, those that do received consistently low ratings. In today's mobile-first landscape, one could infer that greater mobile functionality could help drive user adoption.
Less Quick and easy implementation — Self-service business intelligence products, on average, were implemented in just 1.7 months, nearly a full month faster than business intelligence platforms. Also, self-service business intelligence tools are more than 20 percentage points more likely to be implemented in-house versus business intelligence platforms, according to users. On average, 93% of users implemented with an in-house team.
About the Self-Service Business Intelligence Software Grid report:

The report is based on more than 620 reviews written by business professionals.
Of the 50 products listed in G2 Crowd's Self-Service Business Intelligence category, the ranked products each received ten or more reviews to qualify for inclusion on the Grid.
About G2 Crowd, Inc.
G2 Crowd, the world's leading business software review platform, leverages more than 140,000 user reviews to drive better purchasing decisions. Technology buyers, investors, and analysts use the site to compare and select the best software based on peer reviews and synthesized social data. Monthly more than a half-million people visit G2 Crowd's site. Co-founded by the founder and former executives from SaaS leader BigMachines and backed by roughly $12 million in capital, G2 Crowd aims to bring authenticity and transparency to business technology research. For more information, go to G2Crowd.com.