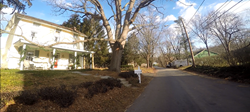 Tree Cabling this Kentucky Coffee Tree was not an easy task, with power lines on one side and branches hanging over the customer's house on the other. In the end, the job was a success, the customer was happy, and the tree is secured.
Huntingdon Valley, PA (PRWEB) February 13, 2017
Giroud Tree and Lawn has just completed a tree cabling job on an extremely rare Kentucky Coffee Tree, which also happens to be the 2nd largest of the species in Pennsylvania. Located in Doylestown, PA, the tree is outside of its natural geological range. After careful inspection, Giroud Arborist, Robert Poley determined that tree cables must be installed as well as some light pruning to reduce the weight of the heavier branches and ensure the tree's health and safety.
Kentucky Coffee Trees are very dense, with a weight of approximately 43 pounds per cubic foot. This particular tree could be a hazard due to its immense size and location near power lines and above the owner's roof. The danger was compounded by the fact the tree had multiple overgrown branches and three codominant leaders growing from the trunk. These structural weaknesses put the tree at high risk for splitting apart.
ISA Certified Arborist Robert Poley said of the job "It was a little tricky pruning this tree's branches considering there were a lot hanging over the customer's house on one side, and live power lines on the other. In the end, the job was a massive success, with multiple cables installed to help redistribute the weight of this historic tree's codominant leaders in order for the tree to grow happy and healthy for many more years to come."
According to Giroud, codominant leaders are when a tree has two or more main stems, each of which sprouts its own branches. As they grow bigger, the strain at their meeting point intensifies and increases the chance for the tree to split, making it a dangerous situation. Giroud Tree and Lawn recommends that homeowners or property managers, who have trees with this condition, should consider getting the trees cabled or pruned in order to prevent splits, breakage or property damage.
About Giroud Tree and Lawn
Giroud Tree and Lawn specializes in tree service, tree removal and lawn care programs that make customers love doing business with the company since 1974. Serving Bucks, Montgomery and Philadelphia Counties, the company offers professional tree and lawn evaluation, tree pruning, tree removal, insect and disease control, fertilizing, stump removal and traditional and 100% organic lawn programs to keep lawns healthy and green. Giroud Arborists are certified by the International Society of Arboriculture (ISA) and have the knowledge and experience required to properly diagnose, treat and maintain trees and lawn health. The company is Accredited by the Better Business Bureau and has been awarded the Angie's List Super Service Award® every year since 2005. The "Giroud Treework for Charity" program donates free tree care services to parks, historical sites and other non-profit organizations located in the Company's service area. For more information, visit the company website at http://www.giroudtree.com or call 215-682-7704.