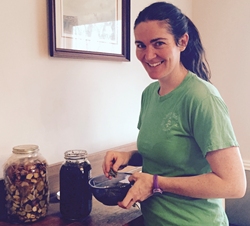 Students will leave class with herbal remedies they've made themselves.
Waterford, Va. (PRWEB) February 13, 2017
The Waterford Heritage Craft School's spring session will offer a class in herbal medicine, the most popular form of the alternative medical treatments now used by one-third of Americans according to a National Institutes of Health (NIH) study.
The NIH also found that Americans spend more than $12 billion a year on natural product supplements like melatonin, echinacea and garlic. Crafts school students will learn how to make their own remedies using easy-to-grow herbs often thought of as weeds.
"I'll teach my students how to grow and store herbs, and which herbs can be used to treat which ailments," said class instructor Jessica Baker of Day Spring Farm. "Students will leave class with herbal remedies they've made themselves."
The executive director of the nonprofit Waterford Foundation that runs the school, Tom Kuehhas, says the herbal remedies class has an interesting connection with Waterford's past.
"There were few formally-trained doctors in Colonial America," Kuehhas said. "Medical care was often provided in the home, by women who learned from their mothers how to make herbal remedies. The Quakers who founded Waterford in 1733 probably grew their own medicines in gardens like the ones we see here today."
The three other course topics offered at the craft school's April 1-2 session also have long histories. They include the Turkish art of Ebru, or paper marbling, which dates to 986 A.D., and the centuries-old arts of basket weaving and veneering.
Classes include 12 hours of instruction over Saturday and Sunday, with lunch provided on both days. Tuition is $300 for each class. Materials fees range from an additional $20 to $60.
The Waterford Heritage Craft School will hold three more sessions this year, each featuring different class topics. Dates are May 6-7, June 3-4 and July 8-9.
To register, contact the Waterford Foundation at 540-882-3018 or visit http://www.waterfordfoundation.org.
###
The Waterford Foundation's mission is to preserve the historic buildings and open spaces of the National Historic Landmark of Waterford, Virginia, and, through education, to increase the public's knowledge of life and work in an early American rural community.