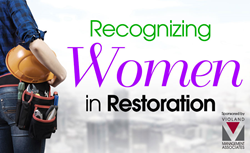 Troy, Mich. (PRWEB) February 16, 2017
Restoration & Remediation is once again looking to recognize women who are the best of the best in restoration and remediation industries. Together with sponsor Violand Management Associates, R&R wants to shine the spotlight on leading ladies who are doing great things within their restoration companies, and making strides within the industry as a whole.
Women may be nominated by their restoration industry peers, so fill out a profile form at http://www.randrmagonline.com/womeninrestoration. Profile submissions are being accepted until March 31, 2017.
Entry forms will not be shared publicly, so we truly urge women not to shy away from filling out a profile themselves. It is okay to be proud of what you've accomplished! You have great knowledge and wisdom to share with your peers; don't be shy about doing so!
Here is what you need to know for this year's campaign:

Women must have at least 10 years of experience in the restoration industry.
Women can fill out an entry form for themselves by following the link on Women in Restoration landing page.
Others can nominate women they know by downloading and following the instructions on the PDF on this page.
Include any images, references, and other information you feel will help strengthen the profile submission.
Any woman in the restoration industry can be nominated for this campaign; position does not matter. The only ineligible person is the top winner of a past Recognizing Women in Restoration campaign. Runners-up may still enter again this year.
Deadline: Friday, March 31.
Questions? Email R&R Editor Michelle Blevins at blevinsm(at)bnpmedia(dot)com.
This year's entries will be judged again by a panel of industry peers, based on a scoring rubric. The winner and runners-up are determined by adding scores together from the various judges. The winner and runners-up will be announced during the annual Contractor Connection Conference & Expo this June in St. Louis, Missouri. They will also be recognized in a special section of R&R appearing in the June issue.
--- END ---