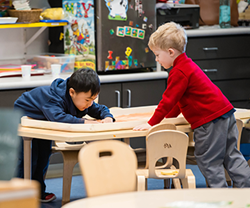 "By providing a broad liberal arts curriculum, Waterford prepares students for success in the 21st century." Todd Winters, Waterford Director of Admissions
Sandy, UT (PRWEB) February 10, 2017
The Waterford School will host a Lower School Open House for families with students entering Preschool (ages 3-4) through Grade 5 on Wednesday, February 15 between 6 and 8 p.m.
This event will showcase Waterford's 40-acre campus, highlighting the school's academic and arts programs. Interested parents and students are invited to come and learn more about Waterford's curriculum, student life and the application process. Time will be available to tour the campus with parent ambassadors and to meet and discuss curriculum and programs with members of the faculty and administration.
"By providing a broad liberal arts curriculum, Waterford prepares students for success in the 21st century, " said Todd Winters, Director of Admissions at Waterford. "On a daily basis, our students may experience studio arts, dance, math, science, robotics and chess, English or history, but regardless of their class schedule or grade level, Waterford students learn to think, and they learn to love learning. "
Founded in 1981, the Waterford School is a private liberal arts, college-preparatory school for students in preschool through grade 12. For more information about the Open House, please call 801-816-2216 or visit http://waterfordschool.org/openhouse