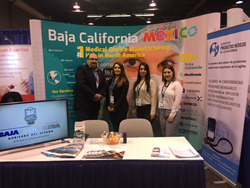 Anaheim, California (PRWEB) February 10, 2017
Tijuana EDC joined the state's delegation showcasing Baja California as the leading cluster for medical device manufacturing in Mexico with 73 firms and more than 50,000 jobs dedicated to the industry.
Delegation´s representatives met with key decision makers at the show to promote the strength and innovative capabilities the region has to offer to the global medical device industry. As a part of the EDC portfolio of services, the organization offered information and a list of services free of charge, to those companies interested in establish manufacturing operations or to supply to the local cluster.
According to FDA, Mexico is the 2nd exporter of medical devices into the United States, and the state of Baja California alone represents 50% of these exports, with Tijuana as one of the top cities for medical device manufacturing in North America.
David Mayagoitia, chair of the Tijuana EDC explains Tijuana's value offer to medical device firms includes not only potential savings of over 25%, but also access to a talent pool developed over 35 years specifically in the medical device field, proximity to U.S. life science mayor hubs, and an experienced supplier base.
Tijuana boasts a sophisticated manufacturing base, accounting for more than 60% of the medical device firms in the State. During the last five years, the city´s medical device manufacturing employment ramped up, driven by new companies entering the Tijuana market and major expansions of existing companies' operations in the area. Also, local suppliers to the industry have diversified their processes to serve the sector needs, strengthening the Baja California Medical Device cluster by integrating new processes or services that are new in Latin America.
During the show, the delegation representatives provided first-hand information about local supply chain opportunities within this key sector, that currently imports more than 1.5 billion annually in products and services. If you are interested in supplying to a potential manufacturing base of 73 medical device firms, contact the Tijuana EDC.