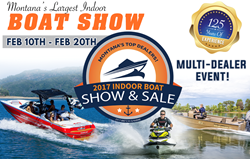 Missoula, Montana (PRWEB) February 10, 2017
Bretz RV & Marine and Gull Boats & RV are presenting Montana's largest Indoor Boat Show from February 10th through February 20th. February is the ideal month to take advantage of pre-season savings and excellent promotional offers. It is also is the time to learn everything you need to know about the marine industry from expert boating specialists.
The Indoor Boat Show sets the stage for exciting marine adventures by offering a variety of sport boats, wake boats, fishing boats, pontoons, personal watercraft and more. Fifteen of the nation's top manufacturers will be on display, representing over 200 boat and personal watercraft brands.
With over 125 years of combined experience, Bretz RV & Marine as well as Gull Boats & RV are known for excellent customer service and longstanding knowledge about the boating lifestyle. Shoppers will find both new and used boats on display, a variety of boating accessories and other marine services, including winterization and inspections. Both dealers encourage trade-ins during the show and, as an additional incentive, the first five boats sold will include a complimentary $200 gift card to Cabela's.
Feel confident about your next buying decision when talking to qualified salesmen who will ensure that you make the best decision for your wants and needs.
Take advantage of exclusive inventory and show pricing for ten days only during the show:
2017 Smokercraft Pro Angler 162: Show Special: $19,995*

$199 Down, 5.99% OAC, $199/mo for 144 months
2017 Sunchaser 8520 Classic Cruise: Show Special: $31,995* (Was: $35,367)

10% Down, 5.79% OAC, $239/mo for 180 months
2017 Starcraft SCX 230: Show Special: $20% Down, $399/Month

2016 Bayliner 185 Bowrider (Stk #8723): Show Special: $24,997*

$249 Down, 6.39% OAC, $249/mo for 144 months
Also, at the Indoor Boat Show, Bretz RV & Marine will be holding various boating seminars on Saturday, February 11th, and Saturday, February 18th. Here is a sneak peek at some of the topics that will be covered during these free sessions:
Saturday, February 11th, 2017 @ 11:00am

"Catch Trout at Ice-Out" hosted by Kit and Trevor Johnson from Kits Tackle and KT Sportfishing
Four Generations of experience on how to guide you into targeting ice out trout perch and walleye on Holter Lake and Gates of the Mountains. Including ice out tactics on all Montana waterways and more!
Saturday, February 18th, 2017 @ 10:00am

"How to Find Walleye" hosted by Bob Hickey, Three Time Montana Walleye Circuit Angler of the Year
Learn how to find walleye and techniques to catch them once you find them!
Saturday, February 18th, 2017 @12:00pm

"Flathead Lakes Spring Fishery Tips and Tips For Traveling with a Boat" hosted by Mike Howe-Winner of the $10,000 Hebgen lake Ice Tournament at West Yellowstone with Jason Mundel
Join Flathead Valley Outfitter Mike Howe for a seminar discussing tactics to catch fish in Flathead Lake, including the spring Yellow Perch bite in Polson Bay and the shallow Spring Lake Trout bite around the mouth of the Flathead River. Also, learn tips and advice for the angler who tows his or her boat to new waters, tournaments, etc.
About Bretz RV & Marine:
Bretz RV & Marine first started in 1965 when Frank and Vi Bretz brought their first Aloha Trailer and began operating a service station in Missoula. Eventually passing on ownership to their two sons Mark and Dave, the family-owned dealership now boasts over 50 years of experience and a location on North Reserve with a recently expanded 20,000 square foot showroom. Today, Bretz RV & Marine currently has three different locations in Missoula, Boise, and Billings. Also, the dealership is proudly recognized as the largest RV & Boat Dealer in Montana, Idaho, Eastern Washington, Wyoming and the Dakotas. Equipped with an extensive selection of RV and Marine vehicles, 26 fully equipped service bays, a dump station, Parts and Body shop, 99cent propane, and the dealership in Montana with the most RVDA technicians under one roof, Bretz RV & Marine continues to set the highest standards in customer service. They are celebrating their 50th company anniversary during the 2017 year.
For more information on Bretz RV & Marine, please visit http://www.bretzrv.com or check out their Facebook page at http://www.facebook.com/bretzrvandmarine.