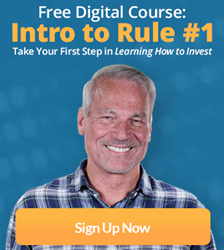 Atlanta, GA (PRWEB) February 10, 2017
Phil Town, founder of Rule #1 Investing and two-time New York Times best-selling author of "Rule #1" and "Payback Time," announced the release of his free, interactive, online investing course on Friday.
Since the early 1980s, Town has been investing using the same principles as top investors like Benjamin Graham, Warren Buffett, and Charlie Munger. In 2014, he achieved national acclaim when the American Association for Individual Investors (aaii.com) ranked his Rule #1 portfolio No. 1 after producing a 50% rate of return.
Town has made a name for himself teaching everyday investors how to take control of their investment decisions without the help of financial advisors and grow their wealth using his value-based investing philosophy.
The anticipated release of his course "Intro to Rule #1: Take Your First Step in Learning How to Invest" comes after many requests from his students to make his teachings more widely available to a larger audience. The course will set the foundation for Rule #1 investing, teach students investing basics, how to make smarter investing decisions, and give them the tools and knowledge they need to be confident with their money.
"My goal has always been to help as many people as possible achieve financial freedom without having to rely on someone else to invest their money who will only get them a mediocre rate of return at best. I designed this course to allow me to reach more people and show them that investing their money doesn't have to be difficult, despite what the financial services industry tells you."
Featuring 5 easy-to-follow lessons, interactive guides and video lectures, hands-on exercises, and access to expert investing tools, the course will get students started on yielding low risk, high return investments using a Warren Buffett-style investing approach.
While tailored to small investors, the course is beneficial to investors of any income and any level. Katherine, an advanced investor and Rule #1 student shares, "I've been investing for 25 years. I've made a lot of money, I've lost money, and it intrigued me. I love how he conveys the concepts. Being able to do these bull put spreads in an IRA on a beaten down stock is kind of like free money."
For more information on the course or to get started, visit: http://www.ruleoneinvesting.com/intro-course
About Rule One Investing
Rule One Investing seeks to educate people interested in financial success, on a value based investing approach that instills confidence to take control of their own wealth. There is no assurance, however, that you will be a profitable investor based upon what you learn from Rule One Investing™, Inc. All trading and investment activity subjects you to the risk of loss, including losses greater than your original investment. For more information, visit http://www.ruleoneinvesting.com.