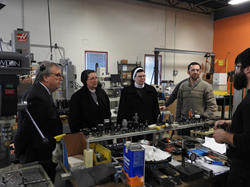 Our partnership with TEKMILL will enable us to extend our Ministry and our Mission by investing in products that will improve patient care and lower costs
Peoria, IL (PRWEB) February 13, 2017
Imagine a space where great minds come together to help turn innovative ideas into fully implemented products. This scenario is becoming reality now that OSF Saint Francis, Inc. has joined forces with TEKMILL and become a shareholder in the company.
TEKMILL is a contract design engineering, rapid prototyping and small-scale manufacturing company located in Champaign, Illinois on the campus of the University of Illinois Research Park. TEKMILL helps its clients refine their innovative ideas, create conceptual prototypes and realize high quality products.
"For anyone who has ever scribbled on a napkin to try to show a friend or colleague an idea, our engineers and machinists can take that idea, build a prototype, test it and produce any quantity needed," said Gary Durack, CEO of the TEKMILL. "We are thrilled to have the opportunity to work with OSF, given its Mission and strong strategic approach to health care innovation."
OSF HealthCare owns OSF Saint Francis, Inc., which is comprised of health care-related businesses. Michelle Conger, Chief Strategy Officer for OSF HealthCare and Jeff White, Senior Vice President and Chief Operating Officer for OSF Saint Francis, Inc. will now serve on the TEKMILL Board of Directors.
"Our partnership with TEKMILL will enable us to extend our Ministry and our Mission by investing in products that will improve patient care and lower costs," said Kevin Schoeplein, Chief Executive Officer at OSF HealthCare. "Together, we can make health care easier, faster and more connected."
The remaining TEKMILL shares are held by the Durack, Fox and Rauschenberger families.
About TEKMILL
TEKMILL turns raw materials and novel ideas into finished products. Its design engineers transform client concepts into manufacturable products, experienced machinists and technicians convert client designs into high quality assemblies, and business professionals provide services and mentoring to help technology entrepreneurs build successful companies. For more information, visit http://www.thetekmill.com.
About OSF HealthCare
OSF HealthCare, headquartered in Peoria, IL, is owned and operated by The Sisters of the Third Order of St. Francis. OSF HealthCare has 11 hospitals throughout Illinois and Michigan as well as two colleges of nursing. The system partnered with the University of Illinois in 2013 to open the Jump Simulation & Education Center. OSF HealthCare and Jump Simulation are founding partners of MATTER, a hub of entrepreneurs and industry leaders in Chicago, IL working together to fuel health care innovation. OSF Ventures invests in new technology and devices to transform and improve health care. For more information, visit http://www.osfhealthcare.org.