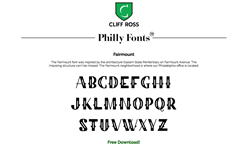 For a limited time Cliff Ross is offering the entire set of fonts for free.
Philadelphia, PA (PRWEB) February 14, 2017
Philadelphia and Easton based advertising agency, Cliff Ross is capitalizing on the importance of fonts in our day to day lives in two ways – offering custom designed fonts for neighborhoods in Philadelphia and launching a custom font design service for businesses. In business since 2010, Cliff Ross is a strong team of creative mavericks. The agency's main office is located in historic downtown Easton. The Art Museum area in Philadelphia was the perfect spot to open a second studio in 2015. "The move definitely galvanized the idea to design fonts for Philly neighborhoods," says Cliff. "The city is so rich in both history and flavor that inspiration came easily."​
The Cliff Ross design team created 10 initial fonts to represent various neighborhoods in Philadelphia. The typefaces are as diverse as the city itself. Brewerytown, North Philly and Center City have an industrial edge. Rittenhouse and Old City have a sophisticated feel, and Main Line exudes the class and stately nature of homes in the wealthy area. Fairmount, Fishtown, West Philly and Manayunk each have their own unique, quirky appeal. For a limited time Cliff Ross is offering the entire set of fonts for free. Simply visit http://www.phillyfonts.com to download your True Type or Open Type set.
The venture was a collaboration between Cliff Ross and his lead designer Kristina Arsi. They merged their skill sets to create each unique typeface. The letterforms were initially developed by hand sketching and then comparing their designs. They continued to refine by hand until the design elements came together. "Starting by hand was essential. That is the basis of letterforms in history," Kristina explains. The process then goes digital by way of scanning and tightening up the design. Kristina handled much of the technical aspect of the process of creating the digital characters and actual font files.
The ultimate goal of this endeavor was to refine the design process and sharpen their skills in order to launch their custom font design service. While always looking for an edge to provide their clients, Cliff Ross determined custom fonts would be a strong way to buttress a business' brand. A business would benefit from having their own font in numerous ways. All their print and web materials would look consistent and unique. Since a font is virtually impossible to pirate, no one outside of the business would be able to utilize it. By distributing the font to employees to use, all projects and correspondence would have a uniform look. "Every business is looking for an advantage over the competition and this is the perfect way to do it," adds Cliff. "The font can be used on everything from a company's website to their business cards."
The custom font services have various design packages available to businesses. From a basic display font (upper case letters only) to a compete font set including numbers and symbols. Emoji design is also available. These can be given to customers to use while they communicate electronically, thus building the businesses brand in a fun way. Each custom font goes through an essential process of editing and fine-tuning. The result is a finished product that is creative, strong and effective. One can find all the details on getting custom font designed for their business at http://www.CliffRossFonts.com.
In addition to offering font design services, Cliff Ross is a full service ad agency and design studio. They work with clients in Philadelphia, The Lehigh Valley and The Poconos, specializing in graphic design, branding, advertising, web development, search engine optimization, social media and copy writing. Full-scale printing and signage services are also provided out of both offices. Stay tuned for more themed font projects from Cliff Ross to come in the near future, along with other custom design projects that are currently in the works.