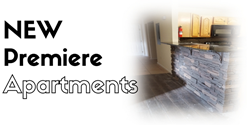 Residents with premier apartments will get high-speed wi-fi, a 55" mounted TV and an electric fireplace with Bluetooth speakers.
Shippensburg, PA (PRWEB) February 12, 2017
Madison & Creekside apartments are excited to introduce the option of premier apartments beginning in the Fall 2017 semester. Students will be given the opportunity to upgrade their apartment if they would like to.
The upgrade will have many exciting new apartment features, but the apartments will still have the same features that residents already love, too. Madison & Creekside apartments are four-bedroom apartments, with each person getting their own private bedroom. The apartments have a keyless entry and are fully furnished, including full-sized appliances and a washer and dryer. All utilities are included in a resident's rent, as well as cable and internet. There is also free parking for residents, and they are allowed to have pets.
While residents love the current perks that they have with Madison & Creekside, they will love the new premier apartment features even more. These will offer granite countertops/a bar area, including bar stools. The upgrade will also include updated sinks and faucets, new tile floors and an all new carpet. There will also be a stone backsplash and accent walls put in.
There will also be completely new features to the premier apartments. Residents with premier apartments will get high-speed wi-fi, a 55" mounted TV and an electric fireplace with Bluetooth speakers. These new amenities are going to have residents feeling like their apartment is truly a "home away from home."
A college student can greatly benefit from being in a premier-style apartment. Having these amenities can make a student much happier, and increase their standard of living. These new features available at Madison and Creekside are things that every college student is looking for in an apartment!
Madison & Creekside Apartments also has a mobile app that is powered by Purple Deck. The app has numerous features, including: News, a Map, Coupons, a Flickr stream and Events. The Coupons feature has numerous deals that residents can use at local businesses. The Events feature keeps residents reminded of events going on in the office, as well as when breaks for the university begin and end.
Each location of Ship Apartments is within walking distance from Shippensburg University, Hot Point Bar and Grille, Sheetz, Wibs Bar, McDonalds and more. In addition, a numerous amount of parking lots is available to residents. Each fully furnished apartment in Madison, Creekside & Brookside includes three or four private bedrooms along with 2 or 3 private bathrooms. all apartments come with high speed internet, built in washer and dryer and much more, and top notch apartments even include granite countertops and stainless steel appliances.