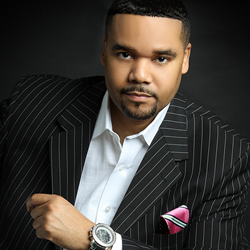 I'm so excited I was able to download this CD. Everyone...don't hesitate, you will enjoy Loren's smooth and beautiful voice.
Mechanicsville, VA (PRWEB) February 14, 2017
Loren Brown
"Back Home"
For immediate release
http://www.lorenbrownmusic.com
Loren Brown has been singing since the very young age of 6. He was a member of the acapella gospel group, The Harmonizers, from 1981 to 1992. During this time The Harmonizers performed in several states on the east coast and in the Midwest and released two studio recordings entitled "Ready" and "Jesus Is My Guide." In 1992, The Harmonizers were honored at the Christian Acapella Music Awards as the Favorite Male Group. In 1992, Loren embarked upon a solo venture and released his first musical project entitled "Anchor in the Storm". The album sold in 38 states and abroad. He was honored at the Christian Acapella Music Awards as an Outstanding Songwriter in 1994. After enjoying tremendous success with his first solo release, Loren released his sophomore album entitled "Joy Cometh in the Morning" in 1998. This release received an overwhelmingly positive response over the next two years prompting the production of Loren's third solo release. "Out of the Blue" was released in 2000. This album earned him the honor of Best Male Vocalist by the Christian Acapella Music Awards in 2000.
Now, Loren has released his most moving and personal album yet. His latest release entitled, "Back Home" is an inspirational and uplifting musical testimony delivered with Loren's signature smooth harmonies and mellow tones. Songs like "I Turn to You", "Only Believe", "Back Home", and "Heaven Must Be Nice", will most certainly delight, encourage, and inspire you. You are cordially invited to take this musical journey with Loren as he guides you along the path Back Home. Enjoy the ride.