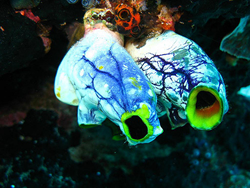 The results obtained in the present study demonstrate that [Lissoclibadin 1] has potential as a chemotherapeutic candidate...
Raleigh, NC (PRWEB) February 11, 2017
Scientists in Japan and Indonesia have just published new research suggesting that an alkaloid isolated from a marine organism near Indonesia's coast can induce natural cell death (apoptosis) in mesothelioma cells. Surviving Mesothelioma has the details of the new research. Click here to read the full article.
Researchers at Tohoku Medical and Pharmaceutical University and Sam Ratulangi University in Indonesia derived the cancer-fighting compound from a sea squirt called Lissoclinum badium.
According to a new report in the Journal of Natural Products, laboratory tests showed that the compound, Lissoclibadin 1, not only killed pleural mesothelioma cells, but several other types of cancer cells, as well.
"The results obtained in the present study demonstrate that [Lissoclibadin 1] has potential as a chemotherapeutic candidate for preclinical investigations," writes lead author Takeo Tatsuta.
Tatsuta and colleagues report that when the compound was tested in live mice with colon cancer, it induced apoptosis without significant side effects.
"Conventional mesothelioma treatments can produce significant side effects and are only marginally effective," says Surviving Mesothelioma Managing Editor Alex Strauss. "A naturally-derived compound that could successfully kill mesothelioma cells with fewer side effects has the potential to transform the treatment of asbestos cancer."
For more details on the new study, including background on the anticancer properties of Indonesian marine life, see Compound in Pacific Sea Squirt Kills Mesothelioma Cells, now available on the Surviving Mesothelioma website.
Tatsuta, T, et al, "Lissoclibadin 1, a Polysulfur Aromatic Alkaloid from the Indonesian Ascidian Lissoclinum cf. badium, Induces Caspase-Dependent Apoptosis in Human Colon Cancer Cells and Suppresses Tumor Growth in Nude Mice", February 9, 2017, Journal of Natural Products, Epub ahead of print, http://pubs.acs.org/doi/abs/10.1021/acs.jnatprod.6b01051
For more than a decade, Surviving Mesothelioma has brought readers the most important and ground-breaking news on the causes, diagnosis and treatment of mesothelioma. All Surviving Mesothelioma news is gathered and reported directly from the peer-reviewed medical literature. Written for patients and their loved ones, Surviving Mesothelioma news helps families make more informed decisions.