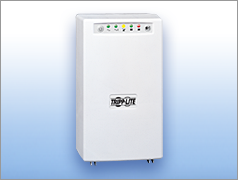 The superior technology of LiFePhos batteries is a game-changer when it comes to medical-grade back up power protection.
Chicago, IL (PRWEB) February 10, 2017
Chicago, IL (2/10/17)—Tripp Lite, a world-leading manufacturer of power protection and connectivity solutions, has introduced two new medical-grade UPS systems with advanced lithium iron phosphate (LiFePhos) batteries. The advanced technology of LiFePhos batteries provides up to 10,000 cycles, 20-30 times as many cycles as a traditional battery.
The SMART700HGL with 700VA/450W of battery backup power and the SMART1200XLHGL with 1kVA/750W of power are fully compliant with UL 60601-1 standards, so they can be used both inside and outside patient care vicinities. Each features a built-in isolation transformer with Faraday shield to offer full isolation from AC surges that could cause shock hazards for patients and staff.
Because a LiFePhos battery weighs less than a traditional battery, these UPS systems are easier to move, helping ensure reliable backup power is available where it's needed most within the facility. These UPS systems are designed to work with minimal service interruptions and are backed up with five-year warranties on the UPS and battery.
Learn More
Download Product Images
Key Features of Tripp Lite's New Medical-Grade UPS Systems
•Built-in line-interactive voltage regulation corrects brownouts as low as 81V and overvoltages as high as 143V without using battery power
•Safe and robust LiFePhos battery makes use of reliable and up-to-date technology
•Surge protection up to 480 joules and EMI/RFI noise filtering protect against electrical spikes and line noise interference that can harm equipment and destroy data
•Diagnostic LEDs and an audible alarm keep the user aware of power status, mode and load levels
•The alarm features a mute/quiet mode to ensure "alarm fatigue" compliance
"The long life of the lithium iron phosphate batteries in these new UPS systems offers distinct advantages to health care facilities of all types," said Jim Folk, Tripp Lite's Director of Health Care Solutions. "From long-range cost savings to more peace of mind for focusing on patient care, the superior technology of LiFePhos batteries is a game-changer when it comes to medical-grade backup power protection. Outside of healthcare applications, these UPS systems are ideal for 'long-life' industrial applications as well."
For more information about Tripp Lite's solutions for health care environments, visit: https://www.tripplite.com/hospital-medical-grade-power-strips
About Tripp Lite
Outstanding product reliability and exceptional service have been Tripp Lite trademarks for over 90 years. Tripp Lite´s innovations include the world's first UPS system designed specifically for personal computers and the world's most trusted premium surge protector—the Isobar®—with more than 19 million in use. Tripp Lite maintains the highest level of ready-to-ship inventory in the industry with more than 3,500 different products, including UPS systems, rack systems and cooling solutions, PDUs, PowerAlert software for enterprise-level system management and control, surge protectors, KVM switches, cables and connectivity products, inverters, power strips and notebook accessories. Headquartered in Chicago, Illinois, Tripp Lite maintains a global presence with fully staffed offices worldwide. Additional information, including a list of Tripp Lite's sales offices and authorized reseller partners, can be found by visiting Tripp Lite's website: http://www.tripplite.com.