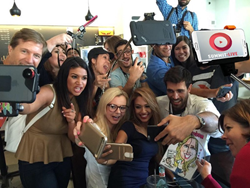 Summit Live is the gathering of the most influential LIVE creators in the world.
Los Angeles, California (PRWEB) February 18, 2017
Join the world's most powerful influencers, emerging platforms and innovative brands in Los Angeles on Feb 22-24 for the largest livestreaming conference in the world. Summit.Live will take place at the Biltmore Hotel and discuss the latest information in disruptive technology.
Attendees can expect 3 full days of connecting and collaborating with everyone from speakers that head The Emmy's to teams that build apps like Twitch, YouTube, and Periscope. Guest will also learn from some of the top innovators that are using these platforms to drive change, grow brands, and raise awareness about a variety of topics.
As this is now the 3rd annual event, it is more than obvious that live streaming is not a fad. From Snapchat, Periscope, Instagram, and Facebook, this conference is known to bring together emerging apps to collaborate and connect with media companies and brands. Ryan Bell, Summit.Live founder stated, "Over the past few years, we have seen tremendous growth in the live streaming space. As we witness the new plateaus that virtual reality will take us to, we are honored at Summit.Live to continue to bring together the community of creators, brand managers, and media houses."
The event will be professionally livestreamed to Facebook, YouTube & Periscope to reach a global audience (and have commercials). Conference creators expect over 1,000 attendees with a combined social reach in the 100's of millions. The first event hosted by Summit.Live trended on Twitter over the Pope's New York visit and the second event doubled in attendance. This conference is a must attend for those looking to discover best practices and new tools for success and accelerated growth.
Over 50 members of major press outlets are expected to attend Summit.Live 2017. Some include Mashable, Techcrunch, Forbes, Inc, Fortune, Mashable, Buzzfeed etc. The format of the event will include phenomenal panels, TedX Style speeches, workshops, breakouts and more. Tickets can be purchased at Summit.live.
Contact: Nicole Henderson
nicole@selsienterprises.com
404-939-1594