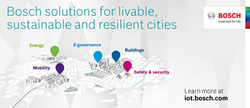 Lake City, CO (PRWEB) February 13, 2017
Join Green Builder Media on February 22, 2017 to learn how Smart solutions are enabling sustainable living worldwide and how you can successfully implement these new technologies today.
Wednesday, February 22, 2017
2:00 PM Eastern
This presentation will feature influential leaders on the topic of Smart City at Bosch in North America. Webinar attendees will receive valuable information on the mega-trends driving the Smart technology industry. Our presenters will provide examples of Smart solutions that are already impacting cities and communities worldwide.
Additionally, experts from Bosch will unveil key success factors for managing a Smart City project and provide information on how you can start implementing these cutting-edge technologies today.
Register today: http://www.greenbuildermedia.com/building-smarter-cities-and-communities