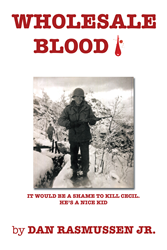 RICHLAND, Wash. (PRWEB) February 13, 2017
At just 21 years old, author Dan Rasmussen Jr. was drafted into the Korean War and shipped off to battle. During his time on the battle fields he witnessed horrific and tragic events of brutality that the South Korean villages he was there to protect had suffered from their enemies in the North. He also witnessed the death of many comrades and friends leaving emotional scars that would never heal.
Rasmussen presents a deeply meaningful volume that poetically retells the story of his struggles and experiences from the Korean War in his new book, "Wholesale Blood." Readers will feel as if they are on the battlefronts with Rasmussen and his platoon in this unique take on what it was like to fight in the war.
"I wrote this book because I want the world to know about Korea. Over a million-people died because of the Korean War," said Rasmussen. "The scars that were driven into all people is unimaginable and still haunts those who lived through it to this day."
Rasmussen is also the author of "Come Along and See: What Some Young Men Did in '48, '49, '50, '51, '52," which details Rasmussen's life leading up to being drafted into the war and the events that took place during it.
"Wholesale Blood"
By Dan Rasmussen Jr.
ISBN: 978-1-4931-6683-1 (Hardcover) 978-1-4931-6682-4 (Softcover),
978-1-4931-6648-8 (eBook)
Available at Amazon and Barnes & Noble
About the author
Dan Rasmussen Jr. was born in Grand Island, Nebraska on the 16th of December, 1929, to parents of Danish descent. Both of his Danish grandparents, had emigrated to the United States around 1885. He was the 5th born of six kids. He was born the year the stock market crashed and the 10-year depression set in. It was a tough 10 years as his Dad was a house painter with no work in the winter time. Upon graduation from high school in 1948, Rasmussen went to work as a helper, putting up big green bill boards, at 35 cents an hour. Three of his sisters had migrated to California and one of their husbands worked on the trucks of the biggest outdoor advertising company in Southern California, Foster and Kleiser. They needed a bill poster, so his name was given out to their management. "Bring him out" was the call and in four days, Rasmussen went from 35 cents an hour to $1.25 an hour with a union job. The following three and half years were very exciting as Rasmussen experienced the ocean, Hollywood, and everything in between that was way beyond Central Nebraska. Then it happened. He was drafted and sent to Korea when he was 21-years-old. Thankful for the GI Bill, after the war Rasmussen went to the Milwaukee School of Engineering in Milwaukee, WI for two years and was hired by General Electric to work at their Hanford Nuclear Reservation in Richland, WA. This was the plant that made plutonium for the atomic bombs and where Rasmussen held a 37-year rewarding career at. Rasmussen still lives in Richland and his wife died two and half years ago, and they have two children.
For Review Copies & General Inquiries Contact:
LAVIDGE – Phoenix
Lauren Dickerson
ldickerson(at)lavidge(dot)com
480-998-2600