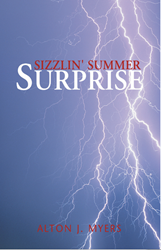 DEFIANCE, Ohio (PRWEB) February 13, 2017
The year 1967 will always be remembered as a very turbulent time in America. It marked a period of uncertainty, social unrest, and violent acts which greatly wounded society. Author Alton J. Myers lived through this time as retold in his new historical fiction novel based on true events, "Sizzlin' Summer Surprise."
Myers' book looks back at the riot that occurred in Detroit during the summer of 1967. It follows the exploits of a teacher (Myers) doing graduate study, who gets thrown into the thick of the outbreak along with his friends.
"Sizzlin' Summer Surprise" conveys the thrilling adventure brought into the lives of those who lived the days of the 1967 Detroit Riot. Though it is fiction, much truth is contained in the core message of the book.
"I was there during the Detroit Riot and saw it firsthand. At the time, I was a high school teacher," said Myers. "I want to enlighten readers about the importance of the events that took place and are covered in my book."
With its compelling narrative, readers will realize why the summer of 1967 in Detroit changed the lives of many. To view the book trailer, please click here: "Sizzlin' Summer Surprise" and to learn more please visit: http://www.altonmyers.com
"Sizzlin' Summer Surprise"
By Alton J. Myers
ISBN: 978-1-4134-9920-9 (Hardcover) 978-1-4535-9512-1 (Softcover)
Available at AltonMyers.com, Amazon and Barnes & Noble
About the author
Author Alton J. Myers is a native of Ohio, born and raised on a farm. He first became a science and mathematics teacher after receiving a B.S. in Education degree from The Defiance College in northwest Ohio and holds a Master of Arts degree from Bowling Green State University. Additional studies took Myers to the University of Detroit to study atomic and nuclear physics during the summer that the riots occurred in 1967. After 13 years of teaching high school, Myers received a Master of Divinity degree from the University of Dubuque Theological Seminary and was a pastor for over 21-years at three different Presbyterian churches in Ohio, Indiana, and Illinois. After retiring, Myers focused on writing his first novel, "Calico Dance." From farm life, to teacher, to pastor, to author, Myers has always sought to follow a dream, a vision, and a calling he has felt was important to each stage of his life. Myers lives in Defiance, OH.
For Review Copies & General Inquiries Contact:
LAVIDGE – Phoenix
Lauren Dickerson
ldickerson(at)lavidge(dot)com
480-998-2600