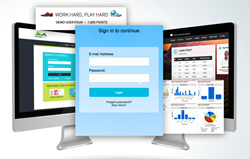 Now you have the ability to build a better, more accurate picture of your customers and their purchase history.
Atlanta, GA (PRWEB) February 13, 2017
Atlanta-based incentive company Incentive Solutions now features CRM integration as part of their incentive technology platform. With this new capability, companies can refine consumer, marketing and sales data to develop highly customized incentives strategies that boost customer loyalty and improve sales channel relationships.
Digital and online tools that help businesses store and manage data aren't new. But many businesses—particularly B2B companies with complex sales channels—still don't make the most of this data. Why? Many of these companies lack a fast, efficient method of feeding accurate program data from marketing, communication and incentive efforts into their CRM system.
By connecting incentive programs to CRM systems, companies can collect sales, update customer profiles, manage and view leaderboard data and develop successful sales promotions backed by CRM data. According to Incentive Solutions' Director of Marketing, Nichole Gunn, "By integrating our incentive technology with CRM systems, a salesperson could submit a sales claim or other purchase documentation to receive an incentive reward, and our CRM integration feeds that info right to the company's CRM. Now you have the ability to build a better, more accurate picture of your customers and their purchase history. You can fine-tune your sales and marketing efforts from a one-stop shop of customer data."
For companies to succeed in increasingly digitized and data-driven markets, tying data to outcomes is crucial. Incentive Solutions strives to provide companies with innovative ways of syncing their incentive technology more closely to their sales and marketing goals.
About Incentive Solutions
Incentive Solutions, Inc. was founded in 1994 and is based in Atlanta, GA. Incentive Solutions offers online rewards, travel incentives and gift card rewards. Since its creation, Incentive Solutions has focused on delivering more than just rewards, innovating the incentive industry by utilizing emerging online technologies. Acting as valued partner and trusted advisor to clients, they help organizations increase sales, motivate employees, build customer loyalty, create positive work environments and improve channel sales relationships.
Incentive Solutions
2299 Perimeter Park Drive, Suite 150
Atlanta GA 30341
1-770-457-4597
1-866-567-7432
http://www.incentivesolutions.com