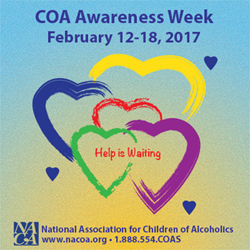 Children of alcoholics, silently suffering by the millions, need and deserve better efforts from our country to protect, support and empower them.
Washington, DC (PRWEB) February 10, 2017
The annual observance of Children of Alcoholics Awareness Week 2017 (February 12-18) was announced today by Sis Wenger, President and CEO of the National Association for Children of Alcoholics. This international awareness campaign will be honored by NACoA affiliate organizations, child supporting agencies, faith communities, treatment programs, schools and local communities.
Campaign activities include educational programs of all types to bring renewed awareness to the plight of children being harmed by parental substance use disorders. Other activities celebrate recovery for young children who have been able to attend educational support programs, such as the Betty Ford Center Children's Program in Dallas, TX, and in school-based student assistance programs or special weekend or summer camps, and have begun healing from the pain and suffering they had endured when active addiction entered their families.
Years of evidence have shown that, with age appropriate help, these children can find ways to resolve the stress in their lives, including exercises like mindfulness, through which they can learn strategies to reduce stress levels and begin to heal. With this year's theme "Help is Waiting," NACoA will feature, in its daily posts and on the website, helpful information and strategies for caring adults to guide COAs to mindfulness.
"At a time that our country is finally facing the science that has shown repeatedly that addiction is a treatable brain disorder and is moving to address it effectively in our medical systems and criminal justice systems, it is still failing to protect and promote the rights of the millions of children whose home life daily is overwhelmed by the misuse of alcohol and drugs. The people who should be nurturing and protecting them are, instead, consumed by an insidious disease that erodes family life and leaves their children to suffer in stifling silence, feeling alone and desperate. It is time, finally, for America to do the right thing for these most at risk children," said Wenger in making the announcement.
Evidence shows that the problem is massive:

In the United States, mothers convicted of child abuse are 3 times more likely to be alcoholics and fathers are 10 times more likely to be alcoholics.
More than 50% of all confirmed abuse reports and 75% of child deaths involve the use of alcohol or other drugs by a parent.
One in four children is being hurt in a family impacted by parental alcohol misuse, and countless thousands more are being devastated by drug addiction in the family, creating a trauma-inducing environment that is developmentally damaging to children from birth and impacts their emotional and physical health for a lifetime.
Research convincingly demonstrates that children of alcohol or drug addicted parents are more likely to be subjected to multiple adverse childhood experiences (ACEs). "Experiences like growing up with parental addiction, and the chaos and stress that surround it, pop up over and over again as primary causes of toxic stress....once a home environment is disordered, the risk of witnessing or experiencing emotional, physical, or sexual abuse actually rises dramatically (Robert Anda, et al., 2006).
Research also has demonstrated that, when the impacted family members, including young children, receive the support they need to heal, families reunite successfully at a greater pace, saving pressure on the foster care system and the family court system, and the children's academics, emotional and physical health and behavior all improve, making it possible for the children to change the trajectory of their lives.
Proclamations from government officials have been declared. Martin J. Walsh, Mayor of the City of Boston, in his proclamation, urged fellow Bostonians to join him "in acknowledging, recognizing and responding to these children in meaningful, loving ways..."
Internationally, NACoA affiliate organizations in Great Britain, Germany, Poland, Slovenia, and New Zealand will focus on education and on advocacy for improved services to support children while they are young as well as providing treatment services for their parents.
"Children of alcoholics, silently suffering by the millions, need and deserve better efforts from our country to protect, support and empower them," said Gary M. Weiss, MD, chairman the NACoA board of directors. NACoA urges that all who care about the mental and physical health and safety of children will take time this week to learn more about the impact -- and the hope -- that surround the children in their midst who are suffering in silence in a home nearby.
The National Association for Children of Alcoholics—the Voice for the Children—is the oldest national membership and affiliate non-profit organization committed to eliminating the adverse impact of alcohol and drug use on children and families. For 33 years, NACoA has been raising awareness about the issues facing these children by advocating for policy change, advancing prevention services, and training professionals who work with children. Through its programs and services, NACoA brings hope, health and healing to children in need.