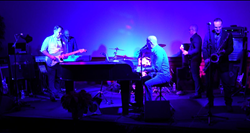 Seeing a Doctor should be simple, fast and work around your schedule
New York (PRWEB) February 13, 2017
FindaTopDoc is revolutionizing healthcare with its uniquely comprehensive approach to linking patients and doctors. In addition to helping millions of patients find and book doctor's appointments, FindaTopDoc is a leading provider of valuable health information that helps empower patients to live a happier, healthier life. In the words of Anthony Casimano, co-founder of FindaTopDoc, "We believe that seeing a doctor should be simple, fast and work around your schedule."
As FindaTopDoc continues its growing presence across the healthcare industry, it remains dedicated to one of its core values – to foster a caring and productive environment for all its staff. FindaTopDoc prides itself in being THE place to work in which all team members are friendly, caring, engaging, and supportive of each other.
To build this exceptional service, Anthony Casimano built a team around him that made his vision come to life. Creativity and success in the workplace is often difficult if the structure, rules and that 'corporate vibe' are the guiding principles of a company. At FindaTopDoc, that couldn't be more opposite. Employees at FindaTopDoc are welcomed with open arms to voice their opinions, demonstrate their creative minds and are valued for their dedication to its mission and working hard to provide the highest level of service.
Most recently at their 2016 Annual Holiday Party, FindaTopDoc had the honor of rewarding their diligent team with a live performance from BIG SHOT, led by Billy Joel band member Mike DelGuidice, - a tribute band to New York's legendary Billy Joel. Their motto at this up and coming start up is "work hard, play hard" and that promise is exactly what Anthony Casimano delivered. The night was full of good music, dancing, fun and laughter. It even included a special performance of Mr. Casimano on the guitar joining lead singer, Mike DelGuidice and Big Shot on stage as his staff cheered him on.
Finding a professional, fun and innovative company to work for can seem difficult in today's challenging times. FindaTopDoc, headquartered in Islip, NY, is proving that a team-oriented and employee supportive environment is a key to successfully providing superior service in today's ever-changing healthcare marketplace.
For more information visit http://www.FindaTopDoc.com. If you're interested in joining the team at their Islip, NY location – please see contact details.